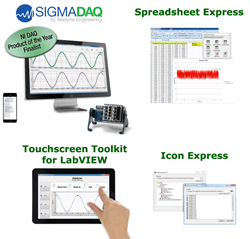 We're very proud of this release, as it will dramatically help industry professionals save time gathering the data they need to do their job efficiently.
San Jose, CA. (PRWEB) July 29, 2014
Aledyne Engineering, Inc., a leading LabVIEW solutions provider delivering forward-thinking products and services, today announced the release of four new products — all to be unveiled at the 20th annual NIWeek conference presented by National Instruments in Austin, Texas, from August 4-7.
Aledyne's latest innovations are designed to enrich user experience and flexibility during analysis and measurement activities within professional environments. At Booth 705a in the LabVIEW Tools Network Pavilion, the following products will be unveiled to industry professionals and members of the press:
SigmaDAQ:
A Finalist for the 2014 DAQ Product of the Year award, SigmaDAQ is a full featured off-the-shelf data acquisition and monitoring software package that provides complete control of data by monitoring multiple channels from multiple devices or chassis simultaneously. Designed with the end-user in mind, SigmaDAQ also improves productivity by sending real-time updates via mobile alerts. Smart technology will also automatically search, reconnect and continue collecting data in the event of a lapse in device connectivity.
"We're very proud of this release, as it will dramatically help industry professionals save time gathering the data they need to do their job efficiently," said Steffan Benamou, President and Founder at Aledyne. "Unlike other data acquisition software packages, SigmaDAQ enables the ability to configure different sample rates across channels of the same module or device. It is also the only tool that will notify an operator via text messaging and auto-reconnects to DAQ devices, which means less downtime and results in faster time to market for our customer's products."
Additional Features Include:

Combine different measurements such as temperature, pressure, voltage, and encoder position
Configure independent sample rates for channels on the same device with auto-decimation
Real-time mobile text alerts with visual graphs on any channel of data
Add and configure network chassis all within SigmaDAQ
View past and real-time data in SigmaDAQ Viewer from multiple locations simultaneously
Create Excel reports including automatic chart generation with a single click
SigmaDAQ Viewer makes viewing data easy, intuitive, flexible, and interactive
Touchscreen Toolkit for LabVIEW:
A first of its kind, the Touchscreen Toolkit for LabVIEW enables developers to create a richer user experience for their applications by providing the ability to read touch coordinates from touchscreen monitors via LabVIEW user events. This enables multi-touch and gesture capabilities on platforms like the National Instruments stand-alone cDAQ-9139 chassis. With multi-touch touchscreens, this is the only way to enable gesture recognition in LabVIEW. A custom gesture recognition engine is included which deciphers common gestures such as swipe (up/down and left/right), zoom (independent vertical/horizontal detection), rotate, and pan.
Additional Features Include:
Directly integrates with Windows 7 and 8 or with XP and Embedded Standard 7 with the UPDD driver
Compatible with any USB monitor or tablet that contains a Windows compliant touch device
Highly configurable – precisely tune the gesture recognition engine
Provides zoom in and out at the exact point of touch on a LabVIEW graph
Quick manipulation of graph characteristics to view the data without the extra clutter of a keyboard and mouse
Spreadsheet Express:
Based on real-world interaction with the LabVIEW Report Generation toolkit, the engineers at Aledyne created Spreadsheet Express. Spreadsheet Express is a LabVIEW toolkit that allows for programmatic control of Microsoft Excel from LabVIEW. Unlike similar software, the Spreadsheet Express graphing capabilities are not limited to 4,000 data points and interfaces with delimiter-separated value files and Excel spreadsheets. It delivers impeccably formatted Excel files for presentation and true Excel Charts instead of OLE object charts for easier manipulation. Make an impression by delivering cleaner formatted Excel reports via Spreadsheet Express' advanced charting capabilities.
Icon Express:
Icon Express can programmatically extract icons from EXE and DLL files and determine the windows-associated icon of any file and extract it. All icons are extracted and converted to LabVIEW image data types which can then be saved to an image file. This can be very useful if there is a program or file which you would like to pull the icon image from for use in a LabVIEW palette icon or user interface development. This can also be used to create a professional looking file tree containing file icons associated with the files in the tree.
To see a live demo of the new releases, visit Booth 705a at NIWeek or visit http://www.Aledyne.com.
About Aledyne Engineering, Inc.
Aledyne Engineering is a National Instruments Alliance Partner and LabVIEW solutions provider delivering innovative products and services, which enrich user experience and are configured to meet the specific needs of every client. Each product is developed and refined with the end user in mind, delivering time savings and unique user interface revolutionary to the industry.
Founded in 2005, Aledyne not only develops revolutionary products for LabVIEW instrumentation and developers but also offers a host of services ranging from National Instruments hardware interfacing to embedded systems development. With a strong foundation in consulting services and as a valued National Instruments Alliance Partner and LabVIEW Tools Network product developer, Aledyne is a key partner for your LabVIEW programming and integrated product needs. Learn more about Aledyne Engineering at http://www.Aledyne.com.
About The LabVIEW Tools Network
The LabVIEW Tools Network is the NI app store equipping engineers and scientists with certified, third-party add-ons to help accelerate productivity and lower project costs. Learn more at http://www.ni.com/labviewtools
National Instruments, NI and ni.com are trademarks of National Instruments. Other product and company names listed are trademarks or trade names of their respective companies.