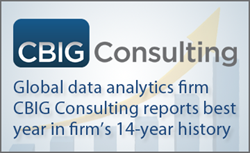 Chicago, IL (PRWEB) January 19, 2016
Global data analytics organization CBIG Consulting announced its annual earnings performance numbers this week, reporting that 2015 was the firm's best year since it opened for business in 2002.
CBIG Principal Don Arendarczyk confirmed the state of the firm was very strong, saying, "We achieved a 54% increase in net income year over year, and added a record number of new clients in 2015. Rolling into 2016, we have a record number of client bookings."
Arendarczyk said the firm's preliminary analysis indicated that shifting to more focused, industry-specific analytics to achieve more rapid, turn-around results on behalf of clients was the difference-maker in 2015. He added, "Internationally, Our CBIG Lean™ analytics solution for managing Big Data has been incredibly successful, while in the U.S., our CBIG Marketing™ analytics, CBIG Competitive™ intelligence and CBIG Monetization™ solutions are having a great impact."
About CBIG Consulting:
CBIG Consulting is an international team of experts in Business Intelligence, Big Data Analytics, Data Warehousing, and Cloud-based Analytics platforms. Named a top BI and Big Data consulting firm by independent research organizations and publications, CBIG's analytics consultants average fifteen years of direct experience in the field. CBIG works with global enterprises, mid-size businesses, and non-profit organizations in solving mission-critical reporting and analytical needs. CBIG is headquartered in the Chicago area and has additional offices in San Francisco, Boston, Denver, Austin, Raleigh, and Seattle in the U.S.; Sydney, Melbourne, Auckland and Singapore serving the Asia-Pacific region; and London serving the EMEA region.