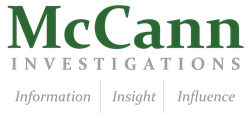 When companies become aware of a data breach, it is extremely important that they act as quickly as possible to resolve the situation
Dallas, TX (PRWEB) September 10, 2013
McCann Investigations, a firm based in Dallas that focuses on providing high-quality private investigations and digital security services, recently announced the availability of its data breach remediation services.
Data breach remediation is a type of service that helps businesses or organizations that have recently suffered a loss of critical information due to a data breach. While the impacts of a breach and its consequences can vary, only trained experts in digital security can fully resolve a breach and mitigate the effects it had.
"When companies become aware of a data breach, it is extremely important that they act as quickly as possible to resolve the situation," said Daniel Weiss, Managing Partner at McCann Investigations. "Our investigators in Dallas are thoroughly experienced in discovering the sources of these breaches and finding solutions for remediation."
McCann analysts work quickly to determine the extent of the damage done via the data breach and analyze the types of information lost through the incident. Common types of information that are targeted in such an event include personally identifiable information, credit card information, intellectual property and more. After a complete analysis, the digital security experts work with the victim company to restore its credit, digital security and public image.
Most importantly, McCann's Dallas analysts then follow up with their clients to install new digital security practices to ensure that such a breach does not happen again.
"After a data breach, a company has to repair not only its own digital security, but the relationships that it has with its employees and customers," said Weiss. "Our analysts help in both of those processes."
For more information about the services provided by McCann Investigations in the Dallas area, visit the company's website at http://www.mccanninvestigations.com and follow the company on Twitter at @mccangi.
About McCann Investigations
McCann Investigations is a Texas-based private investigations practice focused on comprehensive investigations incorporating digital forensics, surveillance, undercover work and background checks for clients in various case types. Service areas include intellectual property theft, non-compete enforcement, fraud, embezzlement and family law. McCann Investigators are experts in the latest computer forensics tools and are licensed with the state of Texas. McCann examiners have provided expert testimony and reporting in hundreds of cases across the state.