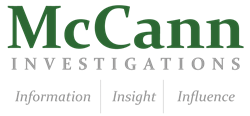 It is important that companies develop plans to have in place in case a data breach ever occurs.
San Antonio, TX (PRWEB) November 11, 2013
McCann Investigations, a firm located in Texas that works in the areas of digital security and private investigations, recently announced that it now has made its data breach remediation services to clients in the San Antonio market.
Data breach remediation is a type of service that helps organizations that have suffered major losses of critical information in data breaches to recover from those disasters. Data breaches come with a variety of consequences and severities, but regardless of the type, only a trained digital security expert can fully mitigate the effects of a breach and uncover the source that led to it.
"It's important that companies develop plans to have in place in case a data breach ever occurs," said Daniel Weiss, Managing Partner at McCann Investigations. "Working with our highly trained security experts makes it significantly easier to put a stop to the breach as soon as you become aware of it."
McCann's digital security analysts in San Antonio first determine how much damage was done via the breach, and then discover what types of information were lost. Common targets of data breaches include information such as intellectual property, credit card information and other personally identifiable information. Victims could become victims of identity theft.
After their analysis is complete, the security experts then help victims to restore their credit, their security and their public image, all while helping their clients to establish new security practices to prevent another breach from occurring.
"Unfortunately, we live in a world where companies need to constantly be on their guard against potential network attacks," said Weiss. "Our services give you great new security standards and help you to solve any problems that you may encounter."
For more information about the services provided by McCann Investigations in the San Antonio area, visit the company's website at http://www.mccanninvestigations.com and follow the company on Twitter at @mccangi.
About McCann Investigations
McCann Investigations is a Texas-based private investigations practice focused on comprehensive investigations incorporating digital forensics, surveillance, undercover work and background checks for clients in various case types. Service areas include intellectual property theft, non-compete enforcement, fraud, embezzlement and family law. McCann Investigators are experts in the latest computer forensics tools and are licensed with the state of Texas. McCann examiners have provided expert testimony and reporting in hundreds of cases across the state.