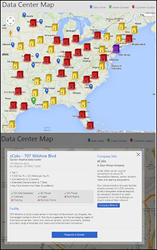 Sandy, Utah (PRWEB) February 27, 2014
Telarus, Inc., distributor of commercial data, voice, and cloud solutions today announced the release of its new data center solution tool, a proprietary online research system that enables Telarus sales partners to locate and source data center services through an intuitive Google Maps interface. The new enablement software is the latest addition to Telarus' patented suite of telecom and managed service research tools created to empower channel partners who source data, voice, and cloud services for their clients. The first incarnation of the data center location system contains all of the known data centers in the United States, with more countries slated to be added in the next release.
"We are very excited for the official release of our data center location system," commented Lanny Gray, VP of Business Development for Telarus, Inc. "This new online tool will create a lot of value for consultants, MSPs, and VARs who work with businesses who have data center requirements. We find that our partners generally know where the large data center facilities are, but when asked about available options in lesser known parts of the country, they struggle. This tool will help them add value to their clients by being able to respond almost instantly to the customer's inquiries, helping them source traditional rack, space, and power services as well as managed cloud services quickly and efficiently."
A unique feature of the software is that it highlights service providers who have a distribution contract in place with Telarus. 'Contracted Data Centers,' as they are called, are listed on top of the result displays with green 'contracted' icons next to their name. If the user finds this option attractive and needs an exact price quote, there is a 'Request Price Quote' button which triggers an electronic pricing request to Telarus' team of pricing support specialists. Future release plans for the data center research tool include the addition of data centers in Europe, Asia, South America, India and the rest of the world.
"We are confident that this technology will add a tremendous amount of value to our partners, especially those who are more focused on providing complex solutions to their clients in lieu of just price quotes," adds Robert Butler, VP of Sales for Telarus. "I meet with partners every day who ask us about data center options and now we have a cutting-edge tool that will empower them with information like never before."
The suppliers who are currently available for near real-time sourcing through the data center tool are: Savvis (CenturyLink), Windstream, XO, Zayo (zColo), Time Warner Cable (NaviSite), tw telecom, TelX, Integra, Alpheus, Cbeyond, Earthlink Business, Level 3, Telepacific, Viawest, 365 Main, and Center 7 (C7). More data center providers are scheduled to be upgraded to 'contracted' during the course of 2014. For a detailed list of current Telarus data center providers please visit: http://www.telarus.com/products.html.
To view a 2-minute online demo of the tool, please visit http://www.DataCenterTool.com.
About Telarus
Telarus, Inc., a value added distributor that holds contracts with the world's leading commercial telecommunication carriers, makes it easier and more profitable for solution providers, VARs, and MSPs to sell and source voice and data WAN solutions. Our patented GeoQuote platform combines real-time carrier pricing with advanced research features and branded proposals. Telarus' experienced Sales staff is strategically focused on enterprise WAN and high-capacity bandwidth solutions, making it easier to find the best offer, every time. For its part, Telarus has been named the top Master Agent by the members of the Telecom Association in each of the past three years, the first and only company in the carrier channel to accomplish this feat. Whether you are a top producer or a voice-and-data expert just starting out on your own, there is a place for you in the Telarus community. For more information on the Telarus partner program, please visit telarus.com or call the new partner hotline at 877-346-3232.