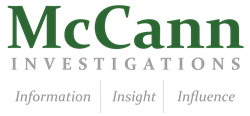 We encourage clients to be as proactive as possible when it comes to digital security.
San Antonio, TX (PRWEB) November 10, 2013
McCann Investigations, a firm located in Texas that specializes in digital security and private investigations, recently announced that it now offers its data loss prevention services in the San Antonio area.
Data loss prevention is the process of securing a network and all locations where critical data, such as personally identifiable information or trade secrets, is kept. According to the San Antonio digital security experts at McCann Investigations, this task should be a top priority for all companies that handle or store sensitive information on a regular basis, as losing that information could have severely damaging results.
"We encourage our clients to be as proactive as possible when it comes to digital security," said Daniel Weiss, Managing Partner at McCann Investigations. "The last thing you want is to have to deal with a major data breach. These services help you to secure your information to give you some peace of mind."
Most data loss prevention plans involve using analysts to identify the highest-priority data and tracking all channels through which that data passes. This enables analysts to figure out what strategies they will use to prevent an unauthorized escape of that data.
Most confidential data that McCann's analysts deal with is located on company servers, databases and computers, but it could also be found on mobile devices and external storage units. Exposure of information found on these channels could put employees of the company and the company itself at risk.
"We are pleased to bring these services to the San Antonio market," said Weiss. "Our investigators are eager to get to work and help the businesses and organizations in this area to take a greater control over the security of their critical data."
For more information about the services provided by McCann Investigations in the San Antonio area, visit the company's website at http://www.mccanninvestigations.com and follow the company on Twitter at @mccangi.
About McCann Investigations
McCann Investigations is a Texas-based private investigations practice focused on comprehensive investigations incorporating digital forensics, surveillance, undercover work and background checks for clients in various case types. Service areas include intellectual property theft, non-compete enforcement, fraud, embezzlement and family law. McCann Investigators are experts in the latest computer forensics tools and are licensed with the state of Texas. McCann examiners have provided expert testimony and reporting in hundreds of cases across the state.