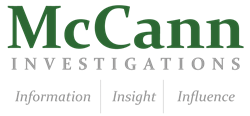 At McCann Investigations, we are dedicated to helping all of our clients ensure long-term security of all of their most sensitive documents and data
Houston, TX (PRWEB) August 22, 2013
McCann Investigations, a firm devoted to digital security and forensics, recently announced its range of data loss prevention services.
The Houston-area firm characterizes data loss protection and prevention as an extremely high-priority task for businesses and organizations of all types that deal with sensitive information on a regular basis. The loss of this type of information could have catastrophic results for many organizations, especially if that information were to fall into the wrong hands.
"At McCann Investigations, we are dedicated to helping all of our clients ensure the long-term security of all of their most sensitive documents and data," said Daniel Weiss, Managing Partner at McCann Investigations. "These data loss protection services are crucial for any organization that hopes to avoid a major data loss incident."
Data loss protection (or prevention) is typically defined as a process in which analysts identify confidential data, then track that data as it moves through various different channels. The process's main purpose is to prevent the unauthorized disclosure of that data by establishing and enforcing a variety of disclosure policies.
Confidential data comes in all types and forms, and can reside on a wide variety of devices. These devices could include physical servers, virtual servers, databases, PCs, flash drives, file servers or mobile devices. The sensitive information itself could be anything that might include intellectual property, corporate data or customer data.
"We have successfully prevented significant losses of data with clients in all different Houston industries," said Weiss. "We enjoy having the opportunity to protect our clients from harm, and encourage anyone concerned with digital security to try out these services."
For more information about the services provided by McCann Investigations in the Houston area, visit the company's website at http://www.mccanninvestigations.com and follow the company on Twitter at @mccangi.
About McCann Investigations
McCann Investigations is a Texas-based private investigations practice focused on comprehensive investigations incorporating digital forensics, surveillance, undercover work and background checks for clients in various case types. Service areas include intellectual property theft, non-compete enforcement, fraud, embezzlement and family law. McCann Investigators are experts in the latest computer forensics tools and are licensed with the state of Texas. McCann examiners have provided expert testimony and reporting in hundreds of cases across the state.