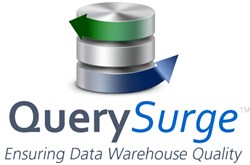 Users will now have a way to make a traditionally complex set of tasks much easier to improve the speed of the data warehouse testing and development process.
New York, NY (PRWEB) September 25, 2013
The newest release, QuerySurge version 3.2, introduces new Data Wizards into the product. These integrated wizards allow beginner to experienced data warehouse development team members to validate their organization's data throughout the ETL process, with no coding required. This helps the data warehouse development process to become more efficient, and also allows many more team members to get involved with the ETL testing and quality assurance process. The new Wizards are also useful for data migrations and database upgrades, verifying that all rows have been transitioned without issue, verifying table-to-table data transfers, and to create SQL stubs for advanced scripting.
Any movement of data within an organization's data warehouse environment introduces risk for both business and technical teams. The integrity and quality of critical data can be compromised if the project is implemented without testing or validating the data to find data discrepancies throughout the process. Traditionally, testing is either done manually or with ad hoc methods which are labor-intensive, time-consuming, and do not always guarantee full data coverage.
QuerySurge was built specifically to solve these challenges by automating ETL data validation and streamlining associated tasks in any high-volume data integration project. It gives users the ability to test 100% of their data, and detect almost any type of data defect before it hits their company's production environment. QuerySurge was built to validate each piece of data, testing complete data sets from both Source and Target data sources. This exposes all data failures and differences, providing users with the ability to capture and pinpoint failures throughout the ETL development cycle.
Using QuerySurge has helped organizations increase quality and reduce the chance of transitioning bad data by giving teams all of the tools necessary to maintain queries, run queries in bulk, follow the results in real-time, collaborate, and report on results. Now, the addition of Data Wizards will enable both testers and developers to run tests quickly and easily.
"This is a feature that many of our clients have been requesting for a while," said Bill Hayduk, President and Founder of RTTS. "Users will now have a way to make a traditionally complex set of tasks much easier to improve the speed of the data warehouse testing and development process."
RTTS will be hosting a live webinar on Thursday, September 26th for those looking to see the Data Wizards in QuerySurge 2013 and learn how it can help save time throughout the data warehouse and ETL testing process. To see more details and register, visit the registration page at: http://www.querysurge.com/events/harry-potter-and-data-warehouse-testing.
QuerySurge 2013 is also available for trial on the QuerySurge website. For any questions or to schedule a Proof-of-Concept, please contact Ron Axelrod, Director of Business Development at raxelrod(at)rttsweb(dot)com.
About RTTS
RTTS is the premier software and services company that provides Software Quality for critical business applications. Headquartered in New York, NY, its expert team has worked closely with over 400 clients to improve their testing processes, tool knowledge, and application deployment outcomes. RTTS was founded in 1996, and has forged partnerships with the world's leading test tool vendors. Its satellite locations are in Philadelphia, Atlanta, and Phoenix, and many of its consulting and education services are offered through the Cloud. No matter where you are, RTTS will ensure application functionality, performance, scalability, and security for your organization. To find out more, visit http://www.rttsweb.com.
Trademarks
Real‐Time Technology Solutions, Inc., RTTS, and QuerySurge are trademarks and/or service marks of Real‐Time Technology Solutions, Inc. in the United States and/or other countries. All other company names, product or service names mentioned in this document may be trademarks of the companies with which they are associated.