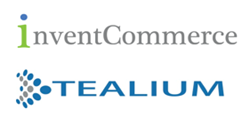 London, UK (PRWEB UK) 7 May 2014
Today's eCommerce marketers are becoming increasingly reliant on the latest innovations in digital technology in order to efficiently support their web and mobile efforts to drive results. As digital marketers are having to collect and analyse increasingly large amounts of data, tags have become the collection method of choice for a clean, actionable source of digital data. Historically the process of implementing and managing tags has been arduous for organisations due to the technical nature of tagging leading to high costs and a reliance on IT resources.
InventCommerce took the decision to partner with Tealium, the leading tag management solutions provider, in order to provide their clients with an efficient solution that cuts out the heavy lifting involved with traditional tag management campaigns in order to offer clients faster page loads, more accurate targeting and improved ROI to gain a much deeper understanding behind the decision making of their visitors. Tealium's turnkey solution offers simplified tag management for both the web and mobile channels, which once installed reduces the need for IT intervention and allows marketers to increase agility and gain a greater understanding of their campaigns.
Coupled with the Tealium AudienceStream, a new audience segmentation and action engine, merchants can now stitch together user journeys across multiple marketing channels and devices to help drive more meaningful customer interactions across all digital touch points.
Kevin Ludford, founder and CEO of InventCommerce comments on the benefits the new partnership brings to their offering:
'The role of data in driving business decisions is not a new idea but the growing use of technology in all aspects of a business's activity has led to the need for a simplified tag management solution that allows this data to be harnessed effectively. The success of a modern day eCommerce marketing team is hinged on its ability to use data to successfully engage customers. It is something that many of our existing clients were interested in, therefore we took the decision to partner with Tealium in order to be able to offer our clients a fully integrated tag management solution at the point of implementation.'
Lance Standing, EMEA Channel Manager for Tealium, also comments on the recent partnership with InventCommerce:
"Today's marketers are faced with a challenging landscape of silo'd applications and fragmented, multi-channel data. Tealium brings order to this chaos and enables marketers to drive more profitable customer engagements in real-time using their existing applications. We are excited to partner with InventCommerce, one of the leading solution integrators, to help joint customers achieve amazing results."
About InventCommerce Ltd
InventCommerce is an innovative eCommerce solutions provider with dedicated teams based in London and Cape Town. The team is passionate about delivering new online innovation to provide clients with the ability to grow customer reach, market share and online revenues. As solutions partners for Demandware, Google, Hybris and Magento InventCommerce have extensive expertise and experience working with a broad range of global brands, merchants and retailers building and delivering both B2C and B2B solutions around flash sales, group buying solutions, multi-brand, multi-geography desktop and mobile solutions.
About Tealium
Tealium helps savvy brands bring order to marketing chaos and engage customers in innovative ways. Using Tealium as the foundation for their digital marketing operations, smart marketers can fuel real-time unified marketing initiatives and drive more profitable customer interactions across all digital touch points. Tealium is the recognized leader in enterprise tag management and was recently named one of Forbes' Most Promising Companies in America for 2014. Each quarter, Tealium serves 1.2 trillion tags on behalf of its global clients, representing an estimated $75B in annual online transactions.