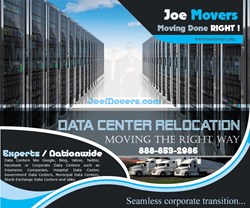 Relocating a Data Center is a challenging move.

Choose Joe Movers for your Professional Data Center Moving services Call For Free Estimate - 888-853-2986
(PRWEB) August 01, 2013
At Joe Movers, they understand that every server and data center relocation is different such as internet data centers like Google, Bing, Yahoo, Twitter, Facebook or corporate data centers such as insurance companies, hospital data center, government data centers, municipal data centers, stock exchange data centers and the like.
Joe Movers, a team of moving specialists and leading online resource for relocation tips and strategies, advises that all server and data relocation (whether involving Internet data, corporate data, hospital data, government data, municipal data, stock exchange data or another type of data) are different but still require a similar process throughout their transfer.
Joe Morgan, a Joe Movers company official, explains, "Relocating a data center is a challenging move. Whatever the specifics, a corporation requires the services of an experienced moving company with a reputation for expertise in their field. Clients must have confidence in their chosen firm."
Morgan adds, "Such relocation can be small or large projects. Yet each move requires an individual approach as well a standard of excellence in moving practices."
Even the most typical relocation can involve transferring various racks of equipment (servers, tape drives, data/storage arrays, optical storage units, as well as switches and battery back-ups/UPS units) from an internal data center room or a co-located facility to a new destination. Such a move might require disassembling rack mounted equipment, moving the entire rack, or both actions.
Morgan notes, "A corporation that just picks any run-of-the-mill company to handle relocation will be adding a ton of unnecessary stress to their company. Choosing a data center moving company is not a decision to be taken lightly by anyone."
Leaders in data center relocation will have experience in servicing several major centers such as New York, Los Angeles, San Francisco, Chicago, Miami Florida and beyond.
Contact Joe Morgan and access the expert advice of a professional large scale electronic equipment moving company. Learn more at http://joemovers.com about the safest and most secure way to transfer data-related equipment. Joe Movers will ensure that each electronic item is boxed properly or padded and shrink wrapped on a gondola. Whether relocating to a local destination or going to Philadelphia, Washington DC, Virginia, Florida, or elsewhere, all electronics and fragile items (as well as office furniture, hospital equipment, industrial machinery, residential furniture and household contents) arrive in excellent condition under the watchful eye of Joe Movers' professional team. A highly trained staff of packers and drivers makes up an integral part of Joe Movers' elite moving company. These professional crews are knowledgeable in the use of specialized equipment necessary to handle high-end sensitive electronics like IT equipment.
About Joe Movers:
Joe Movers, an experienced and professional NYC moving company, offers a comprehensive list of services for residential or corporate clients including data center relocation. This professional electronic equipment moving company is considered a leading expert in the data move process. In addition, Joe Movers provide regular moving services such as packing/unpacking, loading/unloading, disassembly/reassembly, and computer/electronics moving, as well as Red Carpet VIP Moving services. Joe Movers are known as specialists in all areas of moving including medical office moving (MRI, X-Ray, CT, PET systems, and more), trade show moving, school moving, hotel and casino moving, retail store moving, and sensitive equipment rigging and moving, as well as company and employee relocation, and residential moves. Joe Movers' interconnected worldwide network allows the company to offer excellent service and competitive prices for international moving