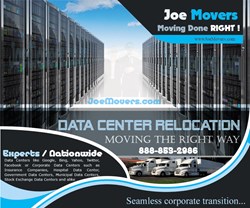 Expert Data Center Relocation Services.

Call Joe Movers for expert Data Center Moving services & help with preparing your data center relocation... Toll Free- 1(888) 853-2986.
New York, NY (PRWEB) August 14, 2013
An ever-increasing number of corporate clients and government officials are choosing Joe Movers, leaders in the IT & data center moving industry, to handle the relocation of their data centers. Whether in the hosting, medical, financial, insurance, or government area, Joe Movers offers a safe and secure way to transfer data centers. At present, Joe Movers provides their professional relocation services both to and from New York and Florida as well as all points between and beyond these centers.
This expert and experienced team handles data center moves (as well as other general and specialized relocation) from and to the Big Apple. Joe Movers serves clients in several U.S. cities such as Miami, Miami Beach, Fort Lauderdale, Hollywood, West Palm Beach, Orlando, Jacksonville, Atlanta GA, Washington DC, Virginia, South Carolina, Baltimore, Maryland, and the New York City Tri-state area, as well as in other centers and towns. Joe Movers understands that no two data center relocations are alike; each data center transfer requires an individualized approach from a top-of-the line moving company. Joe Movers has handled the relocation of internet data centers like Google, Bing, Yahoo, Twitter, and Facebook, corporate data centers (such as insurance companies,…), hospital data centers, government data centers, municipal data centers, stock exchange data centers, and more.
Joe Morgan, a Joe Movers company official, speaks with pride of their "growing firm and expanding services."
Morgan says, "Joe Movers always offers secure and customizable moving plans as well as a flexible approach."
Morgan continues, "We provide a platform of services for data center relocation - covering everything from pre-planning to on-site services to safe transportation."
Due to their excellent team, efficient systems, and proven procedures, Joe Movers is a preferred specialist among corporate and government clients across the US. Their solidbased custom solutions put them at the top of their field. Joe Movers has shown itself to be a growing business with innovative ideas – a thriving company that can adapt and expand in a changing marketplace.
Learn the latest details about Joe Movers' further expansion in the area of professional data center relocation. Contact Joe Morgan. Visit http://joemovers.com and discover even more services offered by this first-class company as well as additional locations from which one can connect with Joe Movers' exceptional team.
About Joe Movers:
Joe Movers, an experienced and professional IT & data center moving company, offers a comprehensive list of services for residential or corporate clients including data center relocation. Joe Movers has expertly handled the relocation of various types of data centers across the US. This professional electronic equipment moving company is considered a leading expert in the data move process. Their specialized relocation services provide each client with a customized plan for individual data center relocation. In addition, Joe Movers provide regular moving services such as packing/unpacking, loading/unloading, disassembly/reassembly, and computer/electronics moving, as well as Red Carpet VIP Movers. Joe Movers are known as specialists in all areas of moving including corporate headquarters moving, medical office moving (MRI, X-Ray, CT, PET systems, and more), trade show moving, school moving, hotel and casino moving, retail store moving, and sensitive equipment rigging and moving, as well as company and employee relocation, and residential moves. Joe Movers' interconnected worldwide network allows the company to offer excellent service and competitive prices for international moving