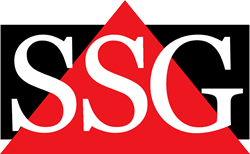 We look forward to accelerating our company's growth at this location over the next decade.
Minneapolis-St. Paul, Minn. (PRWEB) September 10, 2014
SSG, the go-to partner for Oracle BRM and Informatica Data Management, today announces the opening of its new office location in Minneapolis-St. Paul to accommodate its expansion. Located in the downtown Warehouse District, the new office will serve as home-base to SSG's northern data management consulting practice.
"I think I speak for everyone when I say that we are all very excited to have such a great office to come to on a daily basis," Justin Passofaro, managing consultant for SSG's Minneapolis-St. Paul practice, said. "In just the short time we have been here, there is already an increased sense of team. I feel this space is the launching pad for something special and I am very proud to be a part of it."
"We look forward to accelerating our company's growth at this location over the next decade as we continue to collaborate with our clients around their strategic data management initiatives," Passofaro said.
With a focus around the Informatica Platform, SSG's key data management experience areas include master data management, data quality, information lifecycle management and data integration. As a result of the company's premier data management solutions, SSG clients gain better organizational visibility, cleaner and more reliable data, and higher information security, all of which lead to better strategic business decisions. In addition, the company's billing and revenue management practice provides solutions around Oracle BRM, a versatile platform suited for usage-based billing.
For more information about SSG's services, please visit http://www.ssglimited.com.
About SSG
Founded in 1997, SSG, Ltd. is a Dallas-based Oracle Gold Business Partner and Informatica Channel and Consulting Partner specializing in Billing and Revenue Management (Oracle BRM) and Data Management (Informatica Platform and Oracle DW/BI). As a premier software professional services firm, SSG specializes in building trust-based relationships and solving complex problems in business-critical applications for our clients. The ideal SSG client has made significant investments in technology and values a partner they can depend on to bring a depth of experience and solve their technology challenges the first time. SSG prides itself on providing the highest quality service to its clients with an unrivaled level of professional integrity, and is also proud to have been named one of the Dallas Business Journal "Best Places to Work" for three consecutive years.