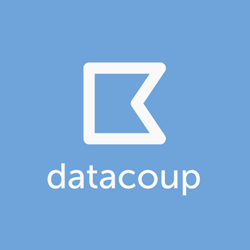 We're creating a new paradigm of control for individuals that provides them greater access and awareness regarding their personal information.
New York, NY (PRWEB) September 04, 2014
Datacoup, "The World's First Personal Data Marketplace," launches today, providing a platform for individuals to aggregate, analyze and sell their own personal data. After a successful beta period with over 1,200 active users testing new site features and receiving money for their data, the service is primed to welcome 10,000+ individuals on their waiting list and the general public to their platform.
"We're really excited to get the new site launched," says Matt Hogan, Datacoup CEO and co-founder. "We've added a ton of new features that show users why their data is valuable. While we are the only company of our kind that pays people for their data and a lot of the focus around this space has been transactional, the bigger picture for our platform is to create a new paradigm of control for individuals that provides them greater access and awareness regarding their personal information."
Founded in 2012 with co-founders Casey Falvey and Reki Hattori, Hogan and Datacoup have received a great deal of press, including pieces in The Guardian, TIME, The Economist, Forbes, Slate, MIT Technology Review, and CBS New York, among others. The company is generally regarded as the first of its kind in the burgeoning Personal Data/Personal Cloud Industry, which recently saw companies like Wickr and Dashlane receive over $30M in funding.
To highlight the launch, the company has created a video thought leadership series, highlighting the current state of the Personal Data ecosystem and how it could look by 2016, called PD16. Featuring experts from corporate, financial, health, and economic sectors, interviewees have provided utopian and dystopian scenarios that might result in two years based on whether individuals control their own personal data…or not. "We're really focused on educating people on why their data is so important," notes Hogan about the series. "The next two years are going to be pivotal in regards to helping people reclaim and take ownership of their personal data."
How Datacoup Works
Today, the entire Internet advertising industry is predicated on mining and selling consumer data. Currently, consumers get no discernible benefit and have no control over their data. Datacoup lets users, "Unlock The Value of Their Data" by helping them aggregate, understand, and transact with their personal information:
1. Aggregate: Datacoup sits on top of financial and social APIs, and will soon be adding Quantified Self and other APIs. By combining these data sets, Datacoup helps users maximize value and find correlations and insights from their personal information they currently can't access.
2. Understand: Datacoup lets users see granular, attribute level information to fully understand their data. Additional infographics and trendspotting insights are also regularly updated so users can quantify and analyze themselves.
3. Transact: Users see their status in the market, how much they have earned and to whom they've sold their data, plus additional metrics to understand how the process of selling data works.
For press inquiries, contact:
Matt Hogan, CEO
matt(at)datacoup(dot)com
(415) 533-7492