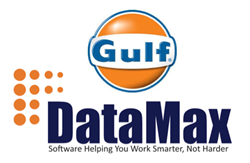 Gulf Oil's network of Preferred Vendors gives Gulf dealers access to exclusive programs and pricing.
Round Rock, TX (PRWEB) February 25, 2015
DataMax Group, Inc. is proud to announce it has been selected by Gulf Oil LP, one of the fastest growing branded marketers of energy products in the U.S., as a Preferred Vendor Partner to provide Back Office software. Gulf Oil's network of Preferred Vendors gives Gulf dealers access to exclusive programs and pricing. Gulf Oil distributes motor fuels through a network of more than 2,500 branded gasoline retail centers, 12 proprietary oil terminals, and more than 130 other supply points. The company also supplies gasoline, heating oil, diesel fuel, jet fuel and kerosene through its terminal network.
DataMax's Back Office software solutions include Envoy 8 for convenience store chains, and Storeworks for single site users. Both solutions manage all aspects of fuel and merchandise retailing for convenience retailers and produce continuing success to the largest oil companies in the world, as well as single site users.
Envoy 8 is the latest version of DataMax's Envoy Global Retail Manager (GRM) convenience store back office software. It is designed specifically with convenience retailers in mind. Envoy 8 centrally controls every aspect of retail operations from a home office while automating the daily books and store paperwork/store management operations. Envoy also supports advanced features like automated suggested reordering, EDI ordering, rules based user defined exception notifications and reporting, user defined store daily task list, drill down reporting, pivot reporting, custom report designer, automatic POS polling to support real time data, and business intelligence. Envoy 8 does it all while providing anywhere access via the web.
The Storeworks Convenience Store Back Office System has for years been an industry leader for single store and small chains. Storeworks provides a feature set similar to Envoy, but tailored to the requirements of smaller operators. Small chains which do not require complete central office control but still require centralized price book and centralized reporting may also add Storeworks HOS to accomplish both goals.
Both Envoy 8 and Storeworks are highly configurable in order to address the unique needs and business models of each customer, and interface with virtually any POS.
About DataMax
For over 20 years, DataMax Group, Inc. has focused on providing innovative and comprehensive back office software solutions and support services to the convenience retailing and petroleum industries. With over 28,000 sites installed in over 50 countries, DataMax has proven to create the best ROI for conveniences store, whether it is a global chain or single site. DataMax has offices in Round Rock, Texas; Montreal, Canada; Bangkok, Thailand; and Silsoe, United Kingdom. To learn more about DataMax or request a software demo, visit http://www.DataMaxGroup.com or Contact DataMax Sales at +1 (512) 246-4022 or sales(at)datamaxgroup(dot)com.