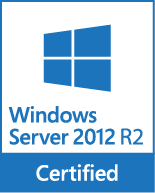 DataON Storage is an important part of our cloud partner ecosystem
Anaheim, CA (PRWEB) May 12, 2016
DataON Storage, trusted provider of hyper-converged platforms for the Software-Defined Datacenter, today announced the company has been accepted into the Microsoft Enterprise Cloud Alliance (ECA) program. This collaboration reinforces DataON's commitment to delivering tightly integrated Microsoft Azure-tuned and 100% certified Storage Spaces solutions to customers requiring a comprehensive approach for accessing both private and cloud-based applications. DataON is currently presenting Storage Spaces architectures at the exclusive invitation only Microsoft Cloud and Hosting Summit in Bellevue, WA from May 10-12, 2016. DataON is currently presenting Storage Spaces architectures for hybrid cloud deployments at the exclusive invitation only Microsoft Cloud and Hosting Summit in Bellevue, WA from May 10-12, 2016.
"DataON Storage has spent the last 1200 days developing and fine-tuning today's datacenter using Storage Spaces and built on a certified Scale-Out File Server platform in order to profoundly simplify IT deployments," said Trenton R. Baker, vice president business development and channel sales, DataON Storage. "Our expanded relationship with Microsoft is an important evolution in DataON's expanding dedication to deliver a Software-Defined Datacenter bringing even more cloud infrastructure innovations and business value to the Microsoft cloud marketplace."
DataON has been a Microsoft Storage Spaces partner since its inception and this new association will continue to accelerate its relationship with Microsoft Corp. to develop and deliver next generation hyperconverged solutions for virtualized Microsoft data centers. As part of the Enterprise Cloud Alliance program, DataON Storage's hyper-converged Cluster-in-a-Box (CiB) appliances, SOFS-Platform (Scale-Out File Server), Microsoft Azure Cloud Stack ready architectures and Storage Spaces Direct compatible solutions will be integrated with Microsoft cloud technology. DataON chief focus areas for integration and certification will be with Windows Server 2016, Hyper-V, Nano, Storage Spaces Direct, and Microsoft Azure Stack (MAS).
"Worldwide enterprise IT leaders have experienced for years the benefits of DataON's Cluster-in-a-Box hyper-converged infrastructure appliances purpose-built for Storage Spaces deployments with simplified deployments, seamless scalability, continuously availability—without sacrificing costs or quality," said Chris Lwanga, Principle PM Manager, Microsoft. "Microsoft's relationship with DataON Storage is an important part of our cloud partner ecosystem as more enterprises leverage Microsoft Azure."
In addition to joining the Enterprise Cloud Alliance (ECA) program, DataON Storage is currently a Gold Certified Microsoft Partner with competencies achieved in Gold Hosting, Silver Datacenter and Silver Midmarket Solution Provider among others. With "best-in-class" certified capabilities and a commitment to exceed Microsoft customers' evolving storage needs, DataON has distinguished itself within the top 1 percent of the Microsoft partner ecosystem.
To earn a Microsoft Gold Competency, ecosystem partners must successfully complete exams (resulting in Microsoft Certified Professionals) to prove their level of technology expertise, and must submit customer references that demonstrate successful projects while meeting specific revenue plateaus. These certifications signify to the market that DataON Storage has demonstrated the highest level of skill and achievement guaranteeing high standards of reliability and ensuring the resiliency of its customers' IT infrastructure, enabling them to focus on their key business competencies.
Tweet This: DataON Storage joins Microsoft Enterprise Cloud Alliance for Storage Spaces hybrid-cloud deployments
About DataON
DataON Storage is the trusted provider of agile OS-agnostic storage and hyper-converged platforms for Software-Defined Datacenters and Small to Medium Businesses. As a Microsoft Gold Partner of certified storage solutions, DataON offers ultra-resilient petabyte scalable and high IOPS solutions built to simplify storage strategies for software-defined storage data, desktop virtualization (VDI) and private cloud. More available at http://www.DataONstorage.com,
call +1 (888)726-8588 or comment via @DataON.