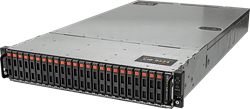 DataON Storage helped us to virtualize our existing Microsoft-defined datacenter
Anaheim, CA (PRWEB) February 09, 2016
DataON Storage, trusted provider of agile OS-agnostic storage and hyper-converged platforms for the Microsoft-Defined Datacenter, today announced the appointment of Dutch IT value added distributor XCES as a key distribution partner in the Netherlands. With this strategic agreement, XCES will provide DataON purpose-built certified Microsoft Storage Spaces solutions in key sectors including desktop virtualization, hosting, government and enterprise markets. XCES will enter DataON's Channel Program as a top-tier Premium Partner, the first reseller in the Netherlands to achieve such status.
"XCES is proud to be named a DataON Premium Partner in the Benelux region," said Andre van den Berg, President, XCES. "We believe DataON's Cluster-in-a-Box architecture is the perfect solution in our region to take advantage of the increasing customer demands for an easy to deploy hyper-converged appliance, able to seamlessly improve efficiencies in storage and Hyper-V. This is only the beginning of our Microsoft Azure-centric innovations that we see in the future with DataON."
"XCES is working with the DataON platform to develop the small to medium business (SMB) and enterprise Benelux market by leveraging the synergistic advantages in deploying a pure Microsoft enabled infrastructure", said Jur Faber Business Development Manager, XCES. Hyperconvergence appliances from DataON utilize the benefits of software-defined storage found within Windows Server 2012 R2. DataON's approach to a Microsoft-tuned hyper-converged appliance collapses the conventional datacenter design of disparate compute and storage down into one single scalable appliance, without the need for costly and complex SANs.
"DataON is dedicated to a think globally, act locally philosophy and see our active channel partner network as extensions in giving value to our customers," said Trenton Baker, VP Business Development, DataON Storage. "XCES is an ideal partner for DataON Storage in the Netherlands by connecting the Microsoft-Defined Datacenter mantra to our Storage Spaces certified appliances."
XCES is already working with Dutch resellers to help their clients realize the notable business impacts of tiered-flash with Microsoft's Storage Spaces. As the inaugural certified platform for Windows Server 2012, the Cluster-in-a-Box appliance meets the rigorous resiliency, scalability and performance requirements of a Microsoft certified solution.
"DataON Storage helped us to virtualize our existing Microsoft-defined datacenter with an economically sound and consolidated solution that can grow with our demand for new IT services. The Cluster-in-a-Box hyper-converged appliance, packaged with the Windows Server 2012R2, was configured as a Microsoft Hyper-V cluster with shared storage and cluster aware, updating in just half a day. Running 14 virtualized servers smoothly. Because of the XCES's introduction to the DataON appliance, we are now able to achieve our sustainability and performance goals. This CiB-9224 appliance can still grow with our future business expectations—it is a win, win solution," according to Jack de Weers, Corporate Network Manager of Dutch insurance company Nh1816.
Now in its second generation the Cluster-in-a-Box (CiB) appliance features the latest Intel® Xeon ® technologies up to 144 virtual cores, as much as 1TB memory for virtual machines, and 48TB capacity for 12Gb/S SAS performance. This Microsoft-tuned solution offers organizations a simple, elastic and predictable datacenter in a box to grow virtualized workloads effortlessly, including enterprise applications, virtual desktop infrastructure (VDI), database, and big data analytics with improved efficiency.
About DataON
DataON Storage is the trusted provider of agile OS-agnostic storage and hyper-converged platforms for Microsoft-Defined Data Centers and Small to Medium Businesses. As the leading Microsoft Gold Partner of certified storage solutions, DataON offers ultra-resilient petabyte scalable and high IOPS performance solutions built to simplify storage strategies for software-defined storage data centers, desktop virtualization (VDI) and private cloud. More available at http://www.DataONstorage.com, call +1 (888)726-8588 or comment via @DataON.
About XCES
XCES is the trusted provider of mid-range and high-end server and storage and networking solutions for value-added resellers and IT-service providers. In addition to our value added distribution of new hardware, we also specialize in the purchase, sale and lease of remarketed IT hardware. XCES is the alternative and has the culture, knowledge and inventory to quickly respond to this every-day question resellers have. We are distributor of DataON and combine DataON's certified hyper-converged solutions with our years of extensive knowledge of standard Intel-based servers and enterprise storage at company-critical and datacenter level.