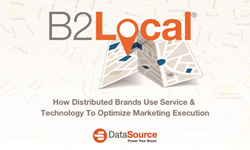 "DataSource has developed a deep understanding of how to enable enterprise level marketing execution at the local level for stores and sales groups"
Kansas City, MO (PRWEB) March 31, 2015
DataSource, Inc., one of America's leading managed marketing services providers, announced today that it has earned a Certificate of Registration for its unique B2Local® concept of delivering Marketing as a Service (MaaS) solutions for enterprise brands with distributed locations and representatives.
DataSource provides MaaS and Marketing Resource Management (MRM) solutions for hundreds of well-known enterprise brands, including Mattress Firm, Compassionate Care Hospice, and Phillips Edison. These engagements have honed the Company's expertise in understanding and addressing challenges faced by enterprise level marketers and supply chain executives, and those experienced by local marketers and storeowners. DataSource provides the industry expertise to manage all aspects of brand delivery; including services and technology. DataSource enables its clients to manage the marketing lifecycle, improving quality, price, speed to market and brand control, while automating direct to store multi-channel content execution.
DataSource is recognized for its commitment to support brands throughout industries with distributed locations and resources, spanning retail, restaurant, financial services, healthcare and more. Their local marketing programs generate increased revenue for clients by streamlining marketing efforts through production and fulfillment, managing collateral inventory, eliminating redundancies and allowing marketers at the local level to customize and produce cost-efficient materials.
"DataSource has developed a deep understanding of how to enable enterprise level marketing execution at the local level for stores and sales groups," said David Holland, CEO of DataSource. "The C-Suite executives we work with are continually striving to identify a series of processes that improve marketing efforts, reduce costs, optimize time management and help localize content. It's no longer about B2B2B or B2B2C. It's about being local, therefore B2Local. We believe our platform provides organizations with distributed locations the best marketing solution available to meet this core need, and ultimately drive revenue."
About DataSource
DataSource, based in Kansas City, MO, is a leading provider of managed marketing operations services that, through best-in-class technology and process automation, empowers brand management across multi-location organizations such as franchises, supply and wholesale operations, distributed sales teams, retail, and restaurants. Services include production and distribution of integrated multi-channel marketing/advertising campaigns and materials for local markets, program design, sourcing, warehousing, fulfillment, and on-demand marketing technology and reporting. Visit DataSource at http://www.data-source.com and follow them on Facebook (https://www.facebook.com/DataSourceInc) and Twitter @DataSourceInc