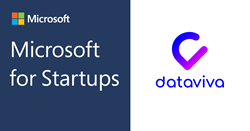 Our participation in the program comes at a critical time for our company as we launch our Retail, Planning, Optimization and Supply Chain solutions on Microsoft Azure
ATLANTA (PRWEB) September 15, 2021
Dataviva, a software as a service platform that provides planning, optimization and supply chain solutions for the Retail industry, announced today its induction into Microsoft for Startups, a global program dedicated to accelerating the trajectory of high-potential startups to enable growth at scale. As a program member, Dataviva will have exclusive access to Microsoft technology, mentorship and business support.
Dataviva's low-code, real-time, extensible planning platform allows AI and decision algorithms to be full 'team members' alongside human experts, massively speeding up decisions and optimizing processes. This leads to fast, accurate and data driven, added-value decisions at every level of the organization. Dataviva can add predictive and optimization capabilities on top of any legacy system with minimum disruption in less time without long and lengthy transformation projects, delivering rapid realization of business and financial benefit.
Dataviva will use Microsoft Azure to reach a wide-scale audience in a short time, with built in redundancy and security. The seamless integration with the Microsoft Azure ecosystem will allow retailers to successfully address the challenge of rapidly evolving consumer behavior and market fundamentals.
"We're honored to be among such a select group of companies from around the world chosen for the Microsoft for Startups program, and we plan to leverage this amazing opportunity to its fullest," said Costas Malamas, CEO, Dataviva. "Our participation in the program comes at a critical time for our company as we launch our Retail, Planning, Optimization and Supply Chain solutions on Microsoft Azure, as we will now have expanded access to resources, capabilities and ecosystem partners that will ensure the success of go-to-market rollout."
"The low-code capabilities of the Dataviva platform enables companies to very easily extend their existing legacy supply chain and merchandising platforms with predictive and optimization capabilities. I believe this is transformational and drives agility for our Retail & Consumer Goods customers", said ShiSh Sridhar, Global Lead, Retail, Microsoft for Startups.
For more information on Dataviva and its retail solutions, please visit https://www.dataviva.com/. For more information on the Microsoft for Startups Program, please visit https://startups.microsoft.com/en-us/.
About Dataviva
Dataviva is building a next-generation, low-code decision platform that combines collaborative planning capabilities with real-time data analytics, letting AI algorithms to become part of the decision-making process of business teams. Dataviva solutions can be overlayed on top of existing IT infrastructure, adding predictive and optimization capabilities to legacy systems with minimum disruption and quick, agile deployments.
Dataviva was founded in 2020 by a team of retail planning veterans and is backed by BigPi Ventures. More information can be found at http://www.dataviva.com