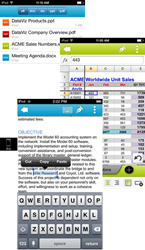 As more people rely on smartphones and tablets as computer replacements, the need for a first-class office application is more important than ever.
Milford, CT (PRWEB) September 04, 2013
DataViz, Inc., a leading provider of mobile document and productivity software, today announced the availability of Documents To Go® v5 for iOS. The new release features iCloud file access, 'in-slide' PowerPoint file editing, iPad optimization, and a new look for viewing, editing, and creating Microsoft® Office files. High fidelity viewing of Adobe PDF® files is also included.
"As more people rely on smartphones and tablets as computer replacements, the need for a first-class office application is more important than ever," says Bonnie Boyle, Chief Product Officer, DataViz, Inc. "Documents To Go has been a leader in viewing and editing files on iOS devices since the beginning of the App Store. We plan to continue developing Documents To Go as a best-in-class viewer and editor of word processing, spreadsheet and presentation files."
DataViz Product Development Past and Present
After dedicating recent efforts to bringing new versions and updates of the password management app Passwords Plus to four computing platforms, including iOS and Mac OS X, DataViz has shifted focus back to Documents To Go.
DataViz will now be adding long awaited features, functionality, and user interface enhancements to Documents To Go, beyond the limited maintenance of bug fixes and OS update support implemented over the past few years.
Documents To Go v5 Highlights*:
App redesign – Modernized user interface includes a refined file explorer, full screen document viewing mode and easy access to extensive editing and formatting options without sacrificing valuable screen real estate.
iCloud support – Backup and save to iCloud for storing and accessing files between iOS devices.
In-slide PowerPoint editing – Edit slide contents and formatting directly in the slide vs. a separate/outline view.
High fidelity PowerPoint viewing – Includes support for viewing charts, MS Office SmartArt, and more.
iPad-optimized – New layout designed to take advantage of the larger screen real estate on iPad, including landscape and portrait views.
Multiple file save and synchronization options – Save and sync directly to your iOS device, desktop & laptop via Wi-Fi, and to various cloud services (iCloud, Google Drive, Dropbox, Box.net, and SugarSync).
iOS 7-compatible – Fully functional with complete iOS-optimization coming in a future update.
*Select features available only in Documents To Go Premium, such as file access via cloud services and slideshow editing.
Pricing & Availability
iOS – Documents To Go Premium and Standard versions can be purchased from the App Store for $16.99 & $9.99 respectively (Compatible with iPhone, iPod touch, and iPad; Requires iOS 5.0 or later).
Android – A new version of Documents To Go for Android is currently in development, targeting a Q4 2013 release. Version 3 is currently available on the Google Play Store.
For more information on the new Documents To Go v5, visit DataViz.com and/or the App Store and be sure to follow DataViz on Facebook at https://www.facebook.com/DataViz for the latest news, tips and product releases.
About DataViz
Founded in 1984, DataViz, Inc. is an industry leader in developing productivity solutions for iOS, Android™, BlackBerry, Windows®, and Mac platforms. DataViz partners include Microsoft®, Motorola®, BlackBerry, Samsung, Sharp®, and other industry leaders.
All product and company names are trademarks or registered trademarks of their respective holders. ©2013 DataViz, Inc.