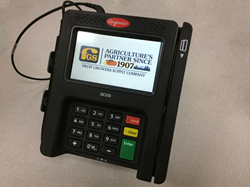 Built on the SAP NetWeaver® technology platform, the DataXstream POS application is easy to deploy
Williamsburg, VA (PRWEB) September 17, 2014
DataXstream (http://www.dataxstream.com), the designer and provider of a fully integrated Point of Sale (POS) solution, announced today the successful implementation of its POS system for Fruit Growers Supply Company (FGS). DataXstream will support all of FGS's multiple retail locations in California and Arizona.
"DataXstream's Point of Sale solution enabled FGS to seamlessly migrate from their existing POS solution to DataXstream's solution with minimal impact to the business," said DataXstream's CEO Tim Yates. "By overlaying their existing order processes with our solution, we are able to maintain legacy orders and at the same time implement a new POS order process, allowing them to expand their overall store solution and capabilities. Our solution simplifies their POS order process, streamlines and reduces transaction cycle time, and adds significant capability to each terminal: advanced hardware integration, flexible controls, and the ability to implement complex specialty retail transaction processes."
The POS solution works with the SAP® ERP application and provides traditional POS functionality as well as advanced order management capabilities. Built on the SAP NetWeaver® technology platform, the DataXstream POS application is easy to deploy through SAP portal technology or a browser and features real time inventory visibility across the supply chain. DataXstream's solution helps organizations leverage live reporting of their business activities – an invaluable benefit for store operations and management reporting.
"DataXstream's POS solution was not only able to meet our complex retail needs, but did so in a cost-effective way. All the while helping us meet PCI compliance and further ensuring future upgrade compatibility," said Alex Perlovich – Director of IT, FGS
"DataXstream not only provided a robust Point of Sale solution but also helped with a smooth transition through comprehensive planning and testing," added Charles Boyce - Vice President, Finance and CFO, FGS
The DataXstream POS application for SAP ERP provides complete back office connectivity as well as comprehensive functionality for retail locations such as support for sales promotions and complex pricing. The system also supports better customer service through increased visibility to customer history and product availability, which is a common need in specialty retail environments.
About Fruit Growers Supply
Organized in 1907, Fruit Growers Supply Company (FGS) has grown along with the West's citrus production. Today, the nonprofit cooperative association is open to the public and provides the agricultural items required to grow, harvest, package, and ship various agricultural commodities. With six retail Operations Centers providing over-the-counter sales, specialized ordering, and custom-design Irrigation systems, FGS continues to offer quality services and goods at highly competitive prices. For more information please visit http://www.fruitgrowers.com.
About DataXstream
Founded in 1997 and headquartered in Williamsburg, Virginia, with a development center in Indianapolis, Indiana, DataXstream has built a successful practice providing technical and functional consulting services for SAP solutions, software products for use in SAP solution environments, and a commercially available POS for use with the SAP ERP application. Working with trusted partners including SAP, VMWare and Dell, DataXstream has provided tangible benefits to companies such as Lumber Liquidators, Eli Lilly and Computer Associates. For more information, see DataXstream online at http://www.dataxstream.com.
# # #
SAP and all SAP logos are trademarks or registered trademarks of SAP SE in Germany and in several other countries.
All other product and service names mentioned are the trademarks of their respective companies.