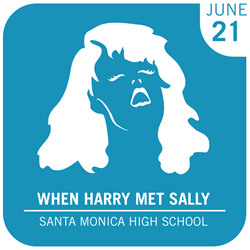 What could be a better date night than food, live music and a movie all rolled into one at a gorgeous Santa Monica venue?
(PRWEB) June 18, 2014
Outdoor food truck, live music and movie event Eat|See|Hear presents a date night evening in Santa Monica on Saturday, June 21. Eat|See|Hear will show the 1989 romantic comedy "When Harry Met Sally" starring Billy Crystal and Meg Ryan. Doors open at 5:30 p.m. and the evening will include a performance by LA band Magic Giant at 7:30 p.m. The movie will begin at 8:30 p.m.
Eat|See|Hear recommends purchasing tickets in advance online. The amphitheater has limited seating and previous events at the venue have sold out. Attendees do not need to bring chairs as the amphitheater has built-in seating, but are encouraged to bring cushions, pillows and blankets for added comfort. Low, beach-style chairs can fit in the seating area if individuals desire a real chair over cushions.
Food trucks will be on location and selling throughout the evening, and include Farmer's Belly, Roll'N Lobster, Cambalaches, Rounds Burger, Carb N Nation, Rushed Art, Slangin Corea, La Lola Loca, Coolhaus, Brasil Kiss and more! Dogs are always welcome at the event, as well, and will be greeted at the door with a free dog biscuit.
"This is a great date night event in Santa Monica," said Sharon Sperber, executive producer of Eat|See|Hear. "Even though it was released in 1989, the movie 'When Harry Met Sally' transcends time and continues to entertain and engage with audiences. What could be a better date night than food, live music and a movie all rolled into one at a gorgeous Santa Monica venue?"
About Eat|See|Hear:
Eat|See|Hear is LA's premier outdoor movie, food truck and live music event series that brings an evening of fun to Los Angeles-area communities each summer. The third annual series is presented by SHOWTIME, featuring up-and-coming bands from the local music scene, the hottest food trucks, and the only 3-story high, 52-foot wide inflatable movie screen west of the Mississippi with the highest quality HD-projection and digital surround sound. Eat|See|Hear is produced by LA-based Trailhead Marketing, Inc. with audio-visual provided by Hollywood Outdoor Movies. For more information about the third annual Eat|See|Hear summer event series, consumers are encouraged to visit the Eat|See|Hear website at http://www.eatseehear.com, as well as the Eat|See|Hear Facebook page, Twitter feed (@EatSeeHear) and Instagram (@EatSeeHear) for the latest updates.