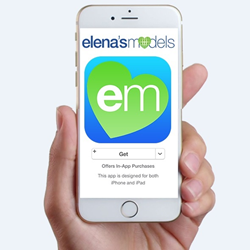 The addition of Elena's Models dating app for members allows them to keep their personal privacy for longer periods of time with its video and audio call features.
Hong Kong, Hong Kong (PRWEB) February 03, 2016
Dating site Elenasmodels.com released a free communication app for iOS, Android. The communication app allows paid members to login and chat to their contacts, including instant text messaging and face-to-face video calls. There is no limit on the number of daily messages that members can exchange through the app.
The new app can be downloaded at the online stores:

Main features include:
Audio/video calls
Instant text chat
Video share
Photo share
Voice notes
Real-time multi-language translation (English, Russian, French, German, and others)
Emoticons
Social Login support (Facebook, Google Plus, VKontakte, Odnoklassniki)
Elena Petrova, the founder of Elena's Models, said about the launch of the new app:
"Phase one in Elena's Models investment and development program is to reward its paying members with mobility via a complimentary app, so they can continue communicating with people they have invested time in both emotionally and financially via membership.
"The App will provide meaningful relationship development direct with their contacts that supports the reality of international dating and the many time zone barriers that exist with normal website issues of mobility and access. The App is fully integrated with the website and its chat system, so all contacts are synchronised automatically between each platform."
The app doesn't have all the features available via the website, concentrating on the ability of users to communicate with existing contacts rather than searching for new ones.
The need for a tool that is accessible 24/7 on the go has been profound due to the nature of the international dating site, where people located in various time zones communicate, Petrova pointed out.
"Privacy and security are major game changers for the dating industry today and Elena's Models have introduced https across its total environment, so members can login and communicate within the fully encrypted website and mobile app.
"The addition of [Elena's Models dating app for members allows them to keep their personal privacy for longer periods of time with its video and audio call features."
Currently Elena's Models is one of the few Eastern European dating sites that allows paid members to share their personal contact details from the first communication. The company works in the usual for general dating sites membership mode, where users are able to exchange unlimited messages with their contacts. The majority of other Russian, Ukrainian dating sites charge for every communication, chat, or photo share, while banning the exchange of contact information.
The company considers its new mobile app as a profound step forward towards removing communication barriers while improving users' privacy.
"With the introduction of a free communication app, members can maintain their privacy for longer," Petrova stated.
"We believe the video chat feature now takes international dating to a new level for those members who are genuine, greatly reducing identify risk issues.
"We have yet to see any competitor offering such level of security and benefits that bring the online world into the real world internationally," Petrova said.
About Elenasmodels.com:
Elenasmodels.com is an international dating site for people seeking relationships, romance, and long-term partners. It has been established in 1999 and listed over 2 million user profiles since that date. Elena's Models users live in more than 170 countries of the world.