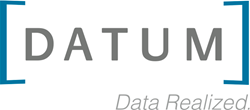 Our rapid growth and customer successes could not have been possible without the experienced professionals within our team.
Annapolis, MD (PRWEB) September 11, 2014
DATUM LLC, the leading provider of Business Strategy for Enterprise Information Management, announces inclusion in the Inc 5000 list of America's Fastest Growing Companies. With five consecutive years of double-digit growth, DATUM LLC has grown into a formidable brand within the EIM & Analytics segment of business services for North America. Propelled by a SaaS offering and an advisory services team of experts, DATUM LLC has established a unique position in delivering the operating model large enterprises depend on for trusted data and analytics success.
"It's a rewarding validation to be named to the Inc. 500|5000 list," said Will Crump, President and founding team member of DATUM LLC. "Our rapid growth and customer successes could not have been possible without the experienced professionals within our team. Many of us have worked together in prior roles, and this company is benefitting greatly from those experiences and their ability to define a repeatable success model based on common values and experiences."
Between 2010 and 2013, DATUM grew by 306%, achieving positive revenue growth quarter over quarter, attracting new partners, growing staff and investing in capabilities to meet consistent demand for the best-in-class Information Value Management® platform. Among Inc. 500|5000 honorees, DATUM is ranked number 17 for "Baltimore Metro Area," number 36 for "Top 100 Maryland Companies" and number 165 for "Top IT Services Companies."
Recent growth milestones in DATUM LLC's business include:

40% Growth in Employee Population in 1H 2014
50% Growth in Subscribed User Count in 1H 2014
Doubled Customer Base in Last 12 Months
"Our mission has always been to make data and information management a process discipline to help large enterprises run and grow their businesses more profitably," added Crump. "DATUM has experienced tremendous growth and success in such a short period simply because we have remained dedicated to this mission and to our customers as partners in that mission."
The 2014 Inc. 500|5000 is ranked according to percentage revenue growth over a 3-year period when comparing 2010 to 2013. To qualify, companies must have been founded and generating revenue by March 31, 2010, and have revenue no less than $2 million in 2013. Additionally, companies must be U.S.-based, privately held, for profit, and independent. 2014 Inc. 500|5000 winners will be honored at the 33rrd Annual Inc. 500|5000 Conference and Awards Ceremony on October 15-17 in Phoenix, Arizona. To see the full list of winners, please visit http://www.inc.com/inc5000/list.
DATUM LLC specializes in framing business and IT expectations on delivering trusted information to support operations, analytics and innovation in Master Data through Big Data. The DATUM methodology and capabilities, coupled with extensive consulting expertise of Enterprise Information Management professionals, allow enterprises to rapidly engage business and IT counterparts for data management initiatives to incubate value, metrics and process optimization in an agile framework.
The DATUM team is widely recognized by large software vendors, analysts and systems integrators as the expert perspective in elevating data management maturity to support improved business performance and growth strategies. DATUM has been recognized as a Gartner Cool Vendor for 2012. Large Enterprises with global requirements have made the DATUM methodology and capabilities an integral part of their value realization programs for EIM. DATUM is the critical success factor for companies who wish to stop building each project from scratch and start treating data as a process. DATUM LLC is an SAP® Partner. SAP® is a registered trademark of SAP AG in Germany and in several other countries.