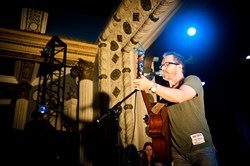 "Tamkin has developed a unique style that has converted an acoustic guitar into an eclectic collection of unique sounds that I have never experienced." - Marquee Magazine
Boulder, CO (PRWEB) January 28, 2014
Dave Tamkin made his way into the national spotlight during his eight years on the road as an opening act for bands like Guster, The Samples, Rusted Root, Michael Galbicki, Butch Walker, Matt Wertz, Eric Hutchinson, Stroke 9, and The Violent Femmes. Now, to the delight of acoustic folk and alternative rock fans all over the country, Dave Tamkin has just released his Cedar EP. Tamkin attributes his unique percussive guitar playing style and talent for lyrical storytelling to influences like Willy Porter, Martin Sexton, Keller Williams, Ani DiFranco and Patty Griffin, but it's undeniable that he brings a new spark and fresh voice to the music scene that is uniquely his own.
Cedar EP may be Dave Tamkin's first release in four years, but it's clear he hasn't missed a beat! Tamkin's fingers explode with energy as they tap dance along the fretboard, and his voice rises strong and clear above his virtuous percussive guitar playing with a passionate delivery reminiscent of Jackson Browne. The opening track, "Little World," begins with Tamkin deftly tapping out blue-grassy accompaniment and lilting vocals that bring to mind other great contemporary acoustic artists like Ben Howard. On the following track, "Drift," Dave is joined by a full band. Their strong pulsing rock rhythms and delicate scattered harmonics call back memories of early radio hits from The John Butler Trio and The Smashing Pumpkins. Dave's Cedar EP finishes strong with the funky syncopated track "Missing On You," which again highlights Tamkin's seamless ability to bring his unique brand of songwriting to any musical style.
Dave says of the recordings, "It was nice to piece the EP together over a few months. I sent samples back and forth to Chicago musicians while I worked on it in Lyons and Boulder, Colorado. Although each song goes in a different direction than the last, the strength of each musician and story is the bond between them;" Tamkin plans to continue building that strength by starting the New Year with a crowdfunding project with producer Elliot Hunt. Cedar EP is a must listen for all fans of genre-bending acoustic folk, rock and funk. Discover the rock solid songwriting and bold energy that Dave Tamkin uses to bring it all together.
You can listen to Dave Tamkin for free at http://www.davetamkin.bandcamp.com and learn more at http://www.davetamkin.com.
For more information, images, or to arrange for an interview, please contact Melissa Zeigler at Powderfinger Promotions: melissa(at)powderfingerpromo(dot)com.
Powderfinger Promotions–Independent Radio Promotion and Publicity. Since being founded in October 1994, Powderfinger has come to be regarded as a top indie radio promotion and publicity firm with ties across North America.