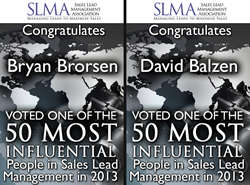 We are constantly innovating with new technologies, recruiting processes, staff training, and other critical organizational processes. We do this to make our customers' campaigns more profitable and effective.
Houston, Texas (PRWEB) December 12, 2013
SalesStaff LLC announced today that the Sales Lead Management Association (SLMA) has recognized two SalesStaff executives in their annual list – the 2013 Top 50 Most Influential Sales Lead Management Professionals. Founder and CEO of demand generation company SalesStaff, David Balzen, and President Bryan Brorsen, were voted onto the list by the membership of the SLMA.
David Balzen is a thought-leader in the inside sales outsourcing industry, building his company's brand on a foundation of nearly two decades of expertise in sales training, sales systems and processes, sales staffing, branding, messaging and go-to-market planning for hundreds of high-tech and B2B companies. Balzen's vision for outsourced inside sales was realized through the development of SalesStaff's hybrid business model of inbound and outbound marketing culminating into the delivery of highly actionable sales appointments and leads to client sales teams. It's a philosophy that has led to multi-million dollar expansions of client sales pipelines. "The role of inside sales, whether outsourced or insourced, is to dovetail with marketing and outside sales by feeding the early stage of the funnel. The key to success is how you organize in terms of messaging, data, staff experience, product/solution training and sales tools," said Balzen.
Bryan Brorsen has spent the last fourteen years of his life studying the complexities of the B2B sales and marketing landscape. In the course of his accomplished career, he has rationalized demand generation product lines, built a management and delivery team for B2B lead generation services, mapped and benchmarked business processes and successfully executed numerous in-depth strategic plans. As President and COO of Houston-based demand generation firm, SalesStaff LLC, he has directed the addition of over $1 billion in sales pipeline revenue to hundreds of client companies. When asked about his inclusion in the list of most influential sales management professionals, Brorsen said, "SalesStaff is on the forefront of driving efficiency into the sales lead generation and appointment setting processes. We are constantly innovating with new technologies, recruiting methods, staff training, and other critical organizational processes. Ultimately, we do this to make our customers' campaigns more profitable and effective." Brorsen continues, "I'm honored that these innovations place me in such good company on the list of influential sales lead management professionals."
As the SalesStaff LLC team continues to make inroads in the Demand Generation industry, their contributions continue to be acknowledged with industry awards and recognition. The SLMA Top 50 Most Influential award comes in a year that also has SalesStaff ranking as the 87th fastest-growing private company in the United States on the prestigious 2013 Inc. 500 list. SalesStaff also enjoyed recognition in the local business community by ranking 19th on the Houston Business Journal's 2013 Fast 100 – a record of the fastest growing Houston metro area businesses. These awards are the product of a number of factors – not the least of which is a palpable uptick in demand for inside sales outsourcing services among B2B sales teams, as evidenced by a 75% increase in market response to SalesStaff marketing campaigns. Increasingly, Demand Generation firms like SalesStaff are being called upon by B2B technology companies to handle all or part of their sales prospecting efforts. The B2B appointment setting and lead generation campaigns included in SalesStaff's service offering impact clients' sales efforts by expanding their sales pipeline with qualified, actionable opportunities. Thus these organizations can compartmentalize their sales teams' efforts, permitting them to focus their activity on closing new business rather than taxing them with prospecting tasks.
There are several providers in the Demand Generation landscape, but SalesStaff has grown by huge measures due to several key differentiators. SalesStaff's development of numerous industry-leading processes has positively impacted operational efficiency and production capability and the results speak for themselves. In a three-year span, SalesStaff generated over 30,000 sales appointments and 15,000 sales leads for hundreds of clients, resulting in over $3 billion in sales opportunity value. SalesStaff is in the business of growth – specifically, growing their clients' sales pipelines; they have applied the same best practices within their own business to realize such extraordinary growth over the last few years, warranting the awards they've received.
A complete list of individuals recognized by the Sales Lead Management Association has been published on the SLMA website.
About SalesStaff LLC
SalesStaff is a premier provider of high-level appointment setting and demand generation services for business-to-business technology companies through the deployment and management of quota-based marketing programs. Using an Inside Sales platform, the company researches opportunities and successfully secures meetings with key executives on behalf of its clients' B2B sales teams to expand their sales pipelines and accelerate sales cycles. For more information, visit http://www.prosalesstaff.com or contact by phone 888-591-8022 Ext. 333. To schedule an interview with David Balzen, please contact 888-591-8022 or by email at info@prosalesstaff.com.
###