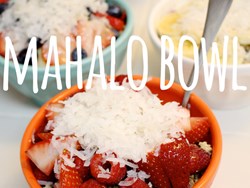 San Francisco, CA (PRWEB) October 02, 2013
David Holyoak is the founder of Mahalo Bowl, the Bay Area's first and upcoming Acai Bowl truck. He is currently seeking funding to ensure that residents of the Bay Area have access to his nutritious Acai Bowls. Click here to view David's campaign: Kickstarter campaign for Mahalo Bowl.
For those of you who don't know, Acai Bowls are made of two parts: the blend and the toppings. The blend is made with the frozen pulp of super nutritious Acai berries blended with a variety of other fruits. Think of it like a smoothie blend but much thicker. Put the blend in a bowl and then add the second part- the toppings. The toppings consist of a variety of the freshest organic fruit, organic granola and clover honey. Mahalo Bowls are all natural with no added sugar and no high fructose corn syrup and due to all of the fresh and frozen fruits used, each bowl is packed with health benefits. Consequently, these delicious bowls fill you up but never slow you down.
From the first time David had an Acai Bowl, he was hooked. But when he returned to the Bay Area, he quickly found that his options were extremely limited as Acai Bowls are difficult to find outside of Brazil and Hawaii. So David decided to start making his own. Starting from scratch and spending months in the kitchen tinkering with the recipes, he finally perfected each of Mahalo's fresh seven bowls and started eating them on a regular basis. It was only a matter of time before David started sharing these bowls with his friends and family and after one thing led to another Mahalo Bowl was born. Mahalo Bowl is now ready to hit the streets of the Bay Area to start sharing these healthy and delicious creations which he knows the Bay Area will love.
David has spent a significant amount of his capital in buying a truck. Originally fitted for Hawaiian Shaved Ice, the truck is in need of major fitting with a host of equipment to get the Acai Bowl business going. This is why David has launched a Crowdfunding campaign.
Currently, David is seeking $25,000 in funding. The pledged amount will be used to cover a variety of expenses. First, $5000 will be spent on securing Mobile Food Facility Permits and Licensing for the following counties: San Francisco, Alameda, Santa Clara and Santa Cruz. The rest of the money will go into truck renovation and equipment such as blenders, a generator, a refrigerator, a freezer and food products.
If the Crowdfunding is successful, David intends to have Mahalo Bowl's truck travel all through the Bay area to give residents a taste of his wonderful recipes.
The seven Acai Bowls David currently has available are the Original Bowl, the Berries on Berries Bowl, the Shorebreaker Bowl, the Mahalo Bowl, the Shaka Bowl, the Kahuna Bowl and the Mavericks Bowl. If everything falls into place, David will work on creating some other delicious recipes as well.
Support Mahalo Bowl and help bring delicious Acai Bowls to the Bay Area! The pledge amounts range from as little as $5 to $3000.
Contact:
For any queries regarding Mahalo Bowl or to schedule an interview, contact David Holyoak through any of the following:
Email : davidaholyoak(at)gmail(dot)com
Phone : 630-699-3745