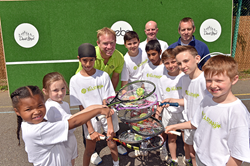 We are always looking for new, fun and innovative ways to encourage people to pick up a racquet.
London, UK (PRWEB UK) 13 June 2015
David Lloyd Leisure, the UKs leading tennis provider, has this week launched a pre-Wimbledon grassroots, national tennis schools roadshow as part of a summer drive to encourage everyone to pick up a racquet and get playing.
British champion Andy Murray's former coach, Mark Petchey, visited local schools in Birmingham, Manchester and Glasgow (June 8, 9 and 10) to hold 'pop-up' tennis coaching clinics for hundreds of primary school children, with the roadshow culminating in a central London hotspot on June 27.
David Lloyd Leisure is always looking for innovative ways to get people to give tennis a try – and the clinics featured the innovative REBO™wall which offers the perfect 'hitting partner' solution. Mark demonstrated the REBO™wall, which is especially designed for locations such as school playgrounds that do not have room for a full size tennis court.
Mark, who is also a Sky Sports tennis commentator, said: "I've been really looking forward to visiting schools to meet pupils and to get them playing tennis. There is currently a significant debate about the need to encourage children to be more physically active – and tennis is not only a great, fun sport to play, whatever your age or ability, but it's also a brilliant way to stay active and keep fit!
"I am delighted David Lloyd Leisure has launched this initiative to make tennis more accessible and increase tennis participation among children across the country. It's simple and easy for anybody to start playing tennis."
The REBO™wall is a new and versatile multi-functional training wall. The adjustable rebound surface is angled, gives a realistic and natural flight to the rebounded ball, completely different to a traditional brick wall, and helps get players of all ages and standards started in the game.
Mark has been supported at each clinic by David Lloyd Leisure tennis coaching teams, who have also been motivating children to play tennis the traditional way with their junior coaching programme, Tennis All Stars, which sees 12,500 youngsters across the country playing each week.
David Bulgin, group racquets manager at David Lloyd Leisure, added: "We are always looking for new, fun and innovative ways to encourage people to pick up a racquet. So many children would love to play tennis but don't always have access to courts and REBO™wall is a great solution. But you can start playing tennis anywhere – whether it's at the park or in the garden.
"It's great to be working with Mark Petchey to spread the word about how great tennis is - whatever your age or ability."
David Lloyd Leisure's summer tennis drive includes hosting the LTA's Great British Tennis Weekend 2015 and new Tennis Tuesdays.
The campaign kicked off in May with the group's racquets clubs offering the whole family a chance to try tennis at the first of three Great British Tennis Weekends, in association with the LTA (Lawn Tennis Association). This will be followed by the weekends of June 13-14 and August 1-2.
This month, Europe's premier health, sports and leisure group has also launched the LTA initiative, Tennis Tuesdays, at its racquets clubs in the London, Birmingham, Greater Manchester, Leeds and Cardiff areas to inspire more women to get on court to improve their game, while keeping fit, having fun and meeting like-minded people.
*As part of the national tennis coaching roadshow, David Lloyd Leisure is offering any school in the UK the chance to win the REBO™wall, worth £5,000, after it ends its national tour. David Lloyd Leisure has teamed up with First News, Britain's only newspaper for children, distributed to 12,000 schools across the country. To enter the competition for a chance to win a REBO™wall and for further information, go to http://www.firstnews.co.uk
PR & Media Enquiries
For further information about this press release, contact the David Lloyd Leisure press office on 01707 289833/4 or email press(at)davidlloyd(dot)co(dot)uk
Ends
Notes to Editors
About David Lloyd Leisure Group
The David Lloyd Leisure Group operates 81 clubs in the UK and a further 10 clubs across Europe, comprising David Lloyd Clubs, Harbour Clubs and Next Generation, plus the new high street concept, David Lloyd Studio. It has approximately 450,000 members and employs 6,000 people. This includes an expert health and fitness team of over 1,800, while it contracts the services of more than 400 tennis professionals. Across all clubs, David Lloyd Leisure has over 150 swimming pools (of which half are indoor) and offers over 10,000 exercise classes per week. Every week 20,000 children learn to swim at David Lloyd Leisure and 12,500 learn to play tennis. Its racquets facilities are unparalleled with 800 tennis courts as well as 180 badminton courts and 140 squash courts. Additional facilities include health and beauty spas, club lounges with free internet access, créches, nurseries and special sports shops. - http://www.davidlloyd.co.uk/
About Mark Petchey
Mark Petchey is a former British No. 1 tennis player, who turned professional in 1988. The right-hander won one doubles title (Nottingham, 1996) in his career, reached a career-high ATP singles ranking of world No. 80 in August 1994 and won three Challenger events. He spent 10 years as a professional player and competed at The Championships, Wimbledon from 1988-1998. His best Grand Slam performance was reaching the Third Round at Wimbledon in 1997 where he lost to Boris Becker. Petchey was also coach to Andy Murray, whom he coached to the top 50 in the world.
About REBOwall
Installed in less than a day, REBO™walls can be put up anywhere - they can even be easily fitted on indoor courts. REBO™wall is especially perfect for locations where a full size tennis court is impossible. The adjustable rebound 'face' is angled, which gives a realistic and natural flight to the rebounded ball - completely different to a traditional brick wall. REBO™walls are versatile, multi-functional and successfully used for coaching groups and individuals, like 'cardio-tennis' fitness sessions or simply for players who want to practise on their own. Players can hit over 2000 shots/hour with only ONE ball. REBO™wall is excellent for increasing fitness. You get a great workout - plus you can easily burn over 500 calories per hour. REBO™wall has been a supplier to both the LTA and ITF (International Tennis Federation) at tennis events this year designed to increase participation levels in tennis.Further information - http://www.rebowall.com