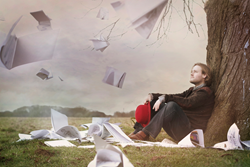 Indifference isn't darkness, instead, it is every color imaginable. - David Trumble
South Orange, New Jersey (PRWEB) February 25, 2014
David Trumble is an inspiring international keynote speaker, who writes and draws thought-provoking cartoons for the Huffington Post. His piece "10 Real World Princesses Who Don't Need Disney Glitter" went viral and garnered millions of views. It has been featured internationally through media outlets that include The Today Show, Upworthy, NBS's iVillage, The Christian Science Monitor, Jezebel, The Boston Globe and The Sunday Times in the UK. David is now represented by Eagles Talent Speakers Bureau for keynote speaking engagements.
David rose to critical acclaim at the age of 21 as the youngest political cartoonist to work at the Sun Newspaper, one of the largest newspapers in the world with a daily readership of eight million. Trumble's work moved to the top of Amazon's 'Movers and Shakers' list for his dynamic illustrations in the Simon & Schuster publication, a Random Book About the Power of ANYone by Talia Leman.
His powerful TEDx presentation, The Journey to Indifference, at TEDxYouth@DesMoines has produced thousands of views on the TEDYouth Youtube Channel. In David's motivational TED presentation, he uses his own personal journey of finding meaning in his life while helping the audience embrace their own blank canvas of infinite possibilities.
"Everyone has a story that begins with the youthful need to be presented with answers," states David, positively, "and ends with accepting the uncertainties of life and finding purpose for one's self." David's message is universally appealing. He provides thought-provoking content that groups (corporate, associations, universities, non-profits) can apply both professionally and personally.
David's Huffington Post piece that went viral, "10 Real World Princesses Who Don't Need Disney Glitter," features princessified versions of the world's 10 most inspiring women from past and present history.
David describes his piece of work to iVillage: "Why do we paint all of our fictitious female role models with the same brush? … The cartoon is a satire that is not meant to glamorize the princess versions of the characters, but rather to make fun of the very limiting princess mold by showing how ridiculous it is to try to crowbar real-life heroes into the template."
David Continues, "It comes down to this: Our cultural ideal of a woman is this princess mold that has been captured by too many cartoon media outlets, books and movies. Being an ideal woman has come to mean squeezing your individual greatness into this archetype. My drawings are meant to convey that greatness in women exists in our history books and before our eyes ... We have to change our consumer habits, before others will change what they sell to our daughters."
In addition to his speaking and editorials, David's upcoming book series for children, which he wrote and illustrated, titled, Mother Goose Retold, will be released this year. The series retells the classic Mother Goose rhymes with original new verses, which will take the familiar stories into unexpected territory. Retailers have already ordered nearly a million copies of the series' first three books, Twinkle Twinkle, Little Miss Muffet, and Humpty Dumpty.
Some of David's speaking programs include:
1. The Journey To Indifference And Beyond
2. Three Reasons People SHOULD Steal
3. Why It Pays To Be Wrong
4. Creativity Is Trouble-Shooting
5. The Fool's Guide To Life
About Eagles Talent Speakers Bureau
If organizations are interested in inviting David Trumble to speak at a conference, convention, business meeting, or lecture series event, contact Eagles Talent Speakers Bureau at 1-800-345-5607. Eagles Talent Speakers Bureau was founded in 1979 by Esther and Gil Eagles, with the single focus of making a positive impact on organizations by providing keynote speakers, top motivational speakers, business thought leaders to clients all over the world for their meetings, conferences, and special events. Eagles Talent believes in people who inspire, educate, and entertain.