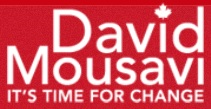 Toronto (PRWEB) September 26, 2014
Toronto has enjoyed ongoing growth and a thriving economy. The city has begun to struggle with providing adequate transportation for its 2.6 million residents. David Mousavi, a candidate for City Councillor in Ward 23, vows to change that by instituting reforms that will improve the reliability of public transit while also reducing traffic gridlock.
One of the major projects proposed for public transit includes adding a Sheppard Avenue West Subway to relieve overcrowding on the Yonge Line. The additional line would close the Sheppard Loop between Yonge and Downsview, which would reduce traffic north of 401 and provide a more convenient way for residents to get across the city. Mousavi also believes that the additional line would encourage business growth by revitalizing Sheppard Avenue, thereby creating more jobs and supporting small business.
"We have to think not only of our current transportation needs, but also how we must accommodate future growth," Mousavi said. "Completing the Sheppard Loop is a forward-thinking solution that can have ramifications for the whole city."
Another major proposal that Mousavi supports to improve transportation in the city is the installation of smart technology to reduce gridlock by as much as 50 percent. Toronto has one of the worst commute times in all of North America, and the problem costs the city millions of dollars a year. The problem is worse in Willowdale, particularly near the Yonge-Sheappard corridor and Yonge-401 interchange.
Mousavi proposes the installation of new street lights that would reduce delays at intersections by as much as 40 percent, increase the capacity for traffic on the roads by as much as 25 percent, and reduce overall commute times. Mousavi says the proposal would also save the city up to $11 billion.
"We have to think smarter about traffic solutions, not just look for new places to build," Mousavi said. "Advances in technology have provided the solutions we need to make those smart changes. We just need to have the vision to take advantage of them."
Mousavi proposes a comprehensive review of funding sources for these and other strategies to improve transportation, rather than relying simply on a tax increase.
Mousavi is challenging incumbent John Fillion for the CityCouncillor seat for Ward 23, which is the Willowdale electoral district. Three other challengers have also entered the race. The election will take place on Oct. 27.