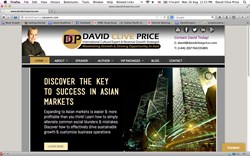 Good intercultural communication is a passport to greater opportunity.
London (PRWEB UK) 30 August 2013
"The key to business success in Asia is to know the cultures. Good intercultural communication is like a passport—a ticket or a visa to maximizing growth, building sustainable cross-partnerships, networking for the long term and understanding how to negotiate," says Price.
"This new website provides the tools, resources and products to help companies both large and small develop their business in individual emerging and high-growth Asian markets. These markets are steadily overtaking the West as the growth leaders of the global economy and Western companies must seize the opportunity."
David Clive Price is an International Speaker, Author and Executive Consultant with 25 years of experience running his own Asian business and advising Asian multinationals in numerous countries in the region. He has distilled this knowledge into a series of VIP Executive Consulting packages under the brand name International Business Passport™, now available on the website.
The site also offers the Master Key Series™, a wealth of Price's information resources from articles and e-books to books on Asian business and culture, including the highly acclaimed Amazon Bestseller, The Master Key to Asia: A 6-Sept Guide to Unlocking New Markets.
Visitors to the site are further invited to subscribe to Price's International Business Passport™ Newsletter and Blog. This provides regular updates on 13 high-growth Asian markets from his business travels around the region, including an upcoming visit to the APEC CEO Summit in Bali, Indonesia.
About David Clive Price
With 25 years' experience, a dozen Asian cultures, and fluency in four languages, David Clive Price is not only an industry expert but also a well sought out advisor, respected negotiator, and influential speaker to a myriad of global corporations. Working with Fortune 500 companies, from major Asian financial institutions, government entities and investment banks to trade development organizations, David Clive Price provides insider knowledge and strategies to optimize global business operations and build brand recognition in Asian markets.
Media Contact Info
David Clive Price (+44 (0)7766335805)
david(at)davidcliveprice(dot)com
Location: London, UK
http://www.davidcliveprice.com