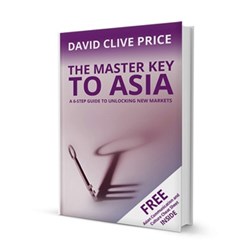 If you want to seize the Asia opportunity, you must develop intercultural skills.
London (PRWEB UK) 22 August 2013
"The sun is setting on the economies of the West and rising on those of the East," writes David Clive Price in this panoramic but highly detailed guide to the way business is done both across the Asia-Pacific and in each of the region's diverse markets. "If you want to seize the Asia opportunity, you must develop the intercultural skills that are vital for enhancing business performance, maximizing growth and gaining competitive advantage."
A fascinating feature of the book is the author's personal knowledge of Asian business. With 25 years' experience advising Asian companies and multinationals, and a career as an entrepreneur in markets such as Hong Kong, China, Japan and Malaysia, he proposes a view of Asian business that is rich in insights for both the experienced Western company, for the incoming entrepreneur and for digital start-ups.
"The bible of Asian cross-cultural communication," is how one senior management consultant describes it. "The outstanding country-by-country overview makes this book really unique. There are many books out there covering specific topics about specific countries of Asia, but a well-written and well-thought guide to a dozen Asian countries is a rare treat!"
The Master Key to Asia is a must-have resource for large companies building or upgrading their Asian capabilities, for business owners developing their brand, and for entrepreneurs setting out in an unfamiliar business environment. The book is available as both a paperback and an e-book.
ABOUT DAVID CLIVE PRICE
With 25 years' experience at the highest levels of Asia business, David Clive Price (http://davidcliveprice.com) helps companies in developed Western countries grow their revenue and increase profitability through leadership development and intercultural communication. His International Business Passport™ programs combine advanced expertise on the psychology of what drives consumer behavior and the importance of social and emotional intelligence when expanding into international markets.
Media Contact Info
David Clive Price (+44 (0)7766335805)
david(at)davidcliveprice(dot)com
Location: London, UK
http://www.davidcliveprice.com
Download the introduction to 'The Master Key to Asia' in adjacent file.