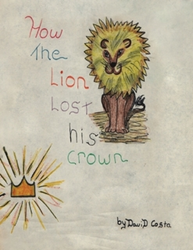 JUPITER, Fla. (PRWEB) January 08, 2015
When author David Costa was an adolescent, his peers bullied him. At that time, writing helped him cope with his feelings and express them creatively rather than through retaliation. He is now publishing the new children's book "How the Lion Lost His Crown" (published by Lulu), which he wrote and illustrated when he was dealing with his feelings about being bullied.
"If children are educated from a young age that this type of behavior only results in negative consequences, they'll hopefully be less likely to engage in the act of bullying or become victims," Costa says.
"How the Lion Lost His Crown" revolves around a prideful lion's obsession with power over his peers. He relentlessly harasses his friends, and wears a crown to demonstrate his dominance over them.
One day, the lion tries to intimidate another "lion," who he perceives as a threat – because this other lion is wearing a crown just like him. His attempts at bullying the other lion lead to his ultimate and literal downfall in the eyes of his peers, and the lion ends up losing what he cherishes most: his ability to bully those who are weaker than him.
"How the Lion Lost His Crown"
By David Costa
Softcover | 8.5 x 8.5 in | 36 pages | ISBN 9781483421520
E-Book | 36 pages | ISBN 9781483421537
About the Author
David Costa was born in New York City and educated in Freeport, New York. David was a victim of bullying as a child, which is what inspired him to write and illustrate "How the Lion Lost His Crown" when he was 12 years old. As an adult with two children of his own, he decided to pursue his lifelong dream of publishing his book in hopes of addressing the topic of bullying and fear with those who are at a susceptible age. He now resides in Jupiter, Florida, with his wife, runs a successful business, and spreads the word of his Savior as a minister and devout Christian.
Lulu empowers people of all ages to explore and express their interests, passions and expertise through books, photography and art. Since introducing self-publishing in 2002, Lulu has empowered creators in more than 225 countries and territories to produce nearly two million publications. Lulu Jr. allows children to become published authors, encouraging creativity, strengthening literacy and building self-esteem. Picture.com offers professional photography of collegiate and professional sports, memorable and historic events, fine art and home décor. For more information, please visit lulu.com.