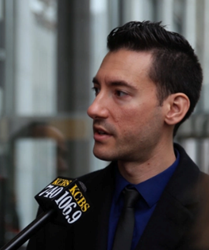 All contributions to Life Legal Defense Foundation's campaign are tax-deductible upon donation
Napa, California (PRWEB) April 05, 2017
Life Legal Defense Foundation (LLDF), a pro-bono law firm in Napa, California, representing pro-life advocate David Daleiden in two civil lawsuits, announced it has set up an online funding campaign with WonderWe, an online funding platform. On March 28, 2017, California Attorney General Xavier Becerra charged Daleiden with a total of 15 felony counts under the State's eavesdropping statute. California prohibits eavesdropping on or recording confidential communications.1
Daleiden and a colleague at the Center for Medical Progress were charged with 14 counts of recording confidential communications and one count of conspiracy to eavesdrop. The conversations in question took place during the course of Daleiden's investigation into Planned Parenthood's alleged role in the trafficking of fetal tissue. The citizen journalists recorded many hours of undercover footage, numerous eyewitness testimonies, as well as ample primary source documents.
In 2015, Daleiden released videos allegedly showing Planned Parenthood officials discussing the possible sale of human fetal tissue and organs.
In a different case in January, 2016, a grand jury in Harris County, Texas, indicted Daleiden on felony and misdemeanor charges. The misdemeanor charges were dismissed by the judge and the felony charges were dropped at the request of the Harris County District Attorney later that year.
Life Legal director, Alexandra Snyder, stated, "David Daleiden's investigative journalism provided an indispensable public service by shedding light on Planned Parenthood's alleged activities. As a direct result of Daleiden's efforts, federal and state prosecutors are investigating the nation's largest abortion provider and its taxpayer funding is threatened.
LLDF is defending Daleiden in two civil lawsuits filed against him by the National Abortion Federation and Planned Parenthood. 2 To offset legal costs, the nonprofit law firm created a crowdfunding campaign at:
https://www.wonderwe.com/daviddaleiden.
"WonderWe is standing behind David Daleiden completely and invites everyone to support this Pro-life soldier!" WonderWe founder, Dominic Ismert stated. "All contributions to Life Legal Defense Foundation's campaign are tax-deductible upon donation."
About Life Legal Defense Foundation:
The mission of Life Legal is to give innocent and helpless human beings of any age, particularly unborn children, a trained and committed defense against the threat of death, and to support their advocates in the nation's courtrooms.
WonderWe is a free crowdfunding site focused on helping individuals, nonprofit organizations, churches and schools go beyond "me" to find the power of "we" with the launching of key innovative features. With a focus on faith, life and family, WonderWe takes the "me" out of fundraising and turns it into a "we". The WonderWe crowdfunding platform offers advanced features like group fundraising, peer-to-peer fundraising and viral video sharing. A WonderWe fund is the future of fundraising!
===
1. National Abortion Federation v. Daleiden, before the 9th Circuit: No. 16-15360
D.C. No. 3:15-cv-03522-WHO
Appeal from the United States District Court for the Northern District of California William Horsley Orrick III, District Judge, Presiding
2. The Planned Parenthood v. Daleiden case number is 3:16-cv-00236. Appeal from the United States District Court for the Northern District of California William Horsley Orrick III, District Judge, Presiding
Court of Record: United States District Court, 450 Golden Gate Avenue, Box 36060, San Francisco, CA 94103