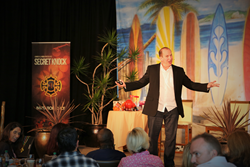 San Diego, CA (PRWEB) August 12, 2014
David Freeman is a branding expert and Hollywood screenwriter that will be a featured speaker at the Secret Knock Live event in San Diego, California on Wednesday, August 13th. Secret Knock is an exclusive gathering of the most powerful and influential leaders of this generation and is a by-invitation-only event.
Greg S. Reid of the Secret Knock says, "No hype, no sales, no dream weavers or crystal balls. Here you will find like-minded people who are actually living their message and achieving the results they share about in their message." Imagine an experience where one gets to mix, meet and mingle with the experts rather than just watch them on stage. This private invite only gathering is the ultimate forum for only high achievers.
Secret Knock has the most eclectic gathering of dynamic individuals around. The Secret Knock mission is to break the rules in personal growth by creating the first inspirational seminar (unplugged style).
About David Freeman:
From Hollywood to Branding, David Freeman spans three worlds. He began and still works half time in entertainment. David helps create television dramas for FOX. He has also sold scripts and ideas to numerous Hollywood film studios (Sony Pictures, Columbia Pictures, Paramount Pictures, etc.) Having deconstructed hundreds of techniques for creating unique and emotionally engaging characters and stories, he has taught at film studios and television companies across the globe, companies as diverse as Pixar, Disney, among many others.
The techniques that make a compelling hero make a great brand, since a brand has a "personality" just like a character. David Freeman's techniques address the subconscious. People aren't aware of all the reasons they bond with a character, plot, or brand, but David does.
The other two worlds David Freeman is in are Branding and Speaking. He has consulted for many brands including CBS Radio, Tyson, and other FORTUNE 1,000 brands.
David Freeman is a sought-after global speaker who teaches in his "Center of Influence" class exactly how to hold an audience of 500 or of 5 spellbound for minutes or for hours, persuading them to take action, whether that action be changing the world or buying one's product or service.
David Freeman
David(at)DavidFreeman(dot)tv
http://DavidFreeman.tv/