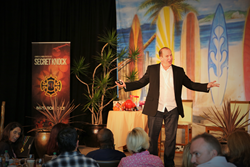 How many elevator pitches can you remember? Ask not for whom the bell tolls, for how many people, a year from now, will remember yours?
Los Angeles, CA (PRWEB) July 23, 2014
David Freeman has taught many successful screenwriters on how to follow his formula in developing reliable storylines and emotionally engaging characters in order to create blockbuster hits such as X-Men, Good Will Hunting, Matrix, and the list goes on. He will be sharing how this same blueprint can be used for a business' 'Elevator Pitch' on a live Google Hangout, Thursday, July 24th at 2pm PST.
Give an unforgettable elevator pitch and in seconds take someone from "so what?" to "tell me more" to "wow!" David Freeman is a branding and storytelling expert. The use of his formula by screenwriters in movies has attracted audiences around the world. There's a reason for their global successes: All that has to be done to predictably repeat a blockbuster's success is follow the formula. That includes using specific techniques to create unexpected stories, scenes, characters and settings. This treasure-trove of techniques is anything but obvious.
In fact, these techniques are "secret" in that they address and influence the audience on a deeply subconscious level. And the audiences love it! People want to be influenced if one does it in the right way.
David Freeman's presentation will benefit entrepreneurs, business owners, and anybody who attends networking events. Because the same Blueprint that is followed to create compelling movie characters and heroes, that draw the audience in and keep them on the edges of their seat, that moves them to tears of laughter and joy, is the same Formula that David Freeman teaches his clients who are going to give a TED Talk, or present to investors, or create a brand, or even an Elevator Pitch.
Influence usually begins with an introduction, or a great Elevator Pitch. Unfortunately, most Elevator Pitches illicit a "so what?" response or negative attitude. This Thursday, David Freeman is going to teach attendees, of the Google Hangout, a system that helps ensure that their elevator pitch opens the doors they need to open.
David Freeman asks, "How many elevator pitches can you remember? Ask not for whom the bell tolls, for how many people, a year from now, will remember yours?"
In one to four sentences one has to use wordsmithing, images, twists, ideas, and hope to yank their listener along a journey from boredom or skepticism into an urgency to connect. It's storytelling at warp speed.
In this Google Hangout, one will learn a proven system for creating an unforgettable Elevator Pitch. Click here to join the Google Hangout that starts tomorrow, Thursday, July 24, 2014 at 2PM PST.
About David Freeman
From Hollywood to Branding, David Freeman spans three worlds. He began in, and still works half time in entertainment. David helps create television dramas for FOX. He has also sold scripts and ideas to numerous Hollywood film studios (Sony Pictures, Columbia Pictures, Paramount Pictures, etc.)
Having deconstructed hundreds of techniques for creating unique and emotionally engaging characters and stories, he has taught at film studios and television companies across the globe, companies as diverse as Pixar, Disney, among many others.
The techniques that make a compelling hero make a great brand, since a brand has a "personality" just like a character. David Freeman's techniques address the subconscious. People aren't aware of all the reasons they bond with a character, plot, or brand, but David does.
The other two worlds David Freeman is in are Branding and Speaking. He has consulted for many brands including CBS Radio, Tyson, and other FORTUNE 1000 Brands.
David Freeman is a sought after global speaker who teaches in his "Center of Influence" class exactly how to hold an audience of 500 or of 5, spellbound for minutes or for hours... persuading them to take action, whether that action be changing the world or buying one's product or service.
David Freeman
David(at)DavidFreeman(dot)tv
http://DavidFreeman.tv/