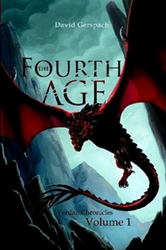 West Allis, Wis. (PRWEB) February 10, 2015
Apocalyptic disaster, ancient prophesies and ambitions of conquest abound in author David Gerspach's new fantasy fiction, "The Fourth Age: Verdan Chronicles: Volume 1" (published by Lulu).
Featuring a wizard with aspirations of grandeur, this book, Gerspach's first novel in a planned nine-volume series, employs a universal battle between forces of good and evil.
"While many of the concepts and creatures depicted in the story are familiar to those who read this genre, I believe the unique twist I've given to some of them will also surprise readers," Gerspach says. "I also think I've created characters that are relatable with flaws, fears and emotions that drive their actions – sometimes with unintended consequences."
With an extensive character list including powerful heroes and villains, elves, dragons, werewolves, telepathic horses, wraiths, giants and more, Gerspach's "The Fourth Age" makes for a magical adventure story replete with medieval detail and spotted with magic and fantastical elements for readers of all generations to enjoy.
"From all the books I've read, movies and TV shows I've watched, and games I've played, I've taken all the best elements and stirred them around in my head," Gerspach says. "Hopefully, the result is something both creative and interesting."
"The Fourth Age"
By David Gerspach
Softcover | 6 x 9 in | 510 pages | ISBN 9781304987785
E-Book | 510 pages | ISBN 9781483423920
About the Author
David Gerspach is a lifelong fan of fantasy and science fiction in a variety of media. He lives with his wife and two sons in Milwaukee and travels to many pop-culture conventions, where he continues to celebrate his passions and fuel his imagination.
Lulu empowers people of all ages to explore and express their interests, passions and expertise through books, photography and art. Since introducing self-publishing in 2002, Lulu has empowered creators in more than 225 countries and territories to produce nearly two million publications. Lulu Jr. allows children to become published authors, encouraging creativity, strengthening literacy and building self-esteem. Picture.com offers professional photography of collegiate and professional sports, memorable and historic events, fine art and home décor. For more information, please visit http://www.lulu.com.