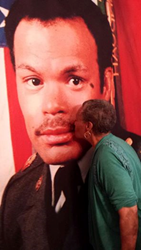 The Flag is professionally done, beautiful and colorful, now I have a Life Sized picture of my son to be near me at all times
Orange County, CA (PRWEB) November 20, 2014
David Heard, legacy expert and founder of Love Flags, helped families celebrate Veteran's Day this year by providing his services of making beautiful keepsakes to remember their heroic loved ones.
David presented a customized flag to a new customer. Here is her reaction to the service that was provided: "Life has surprises that come in seconds and we are not able handle them. This is what happened to me May 11, 2007 when my son died at Ft. Bliss gym of a heart attack. I have lived these memories for many years with pain and hurt. I have a small picture of him on my dining room wall that gives me some happiness daily. One day I heard about the Love Flag and thought I would inquire about one with my son's picture on it. I spoke with David Heard, a young man who was very helpful and polite about what I would like on my Love Flag. David asked other important questions that I could add on to my customized Love Flag. I liked the way business was handled by David, so I sent him the picture and other material that was needed to start the process of my new Flag. Immediate action was taken after he received the information. The time period was short and now that I have received a LIFE sized flag of my son I am a very, very happy and satisfied to have it hanging in my dining room. The Flag is professionally done, beautiful and colorful, now I have a Life Sized picture of my son to be near me at all times. Thanks David for your professionalism, thought, love and your caring attitude. Now Michael is life sized again, but now on a beautiful flag! Thanks again and keep up the good work. I'm a very satisfied customer," says Marge, grieving mother of a hero.
David Heard is a legacy expert whose mission in life is to help grieving individuals through a difficult time by helping them remember and treasure the memories that will last a lifetime with a customized Love Flag. David Heard states, "My Love Flags company is a culmination of the things that I love the most and could spend every day doing. I love photography, family, friends, caring, sharing and giving back to the community. My company is my passion. It allows me to create, provide and share a movement towards preserving and protecting family legacy and heritage. It also helps families to have a deeper, stronger connection for generations to come." This Veteran's Day was yet another special time for families to remember their fallen heroes, and David Heard was happy to provide his services in aiding families, such as Marge's, to pay tribute to their loved ones.
Love Flags makes it possible for family members, living or passed on, to remain strongly connected for generations to come. Love Flags provides family legacy protection and restoration services and has a "family support system" in place to make the creation of the flag that much easier when the time comes. Love Flags works closely with families to create custom "memorial" flags with pieces of memorabilia that are most important to the families, to create everlasting memories, all in one place. Buy a copy of David Heard's new book Love Flags: Helping You Remember & Celebrate Your Loved Ones" on Amazon.com
About David Heard
David was a U.S. Marine Corps military dependent growing up and served his country by being in the U.S. Air Force for four years. After providing this service he then worked for a major utility company for 33 years and has since retired to pursue his destiny and dream by creating his company, Love Flags. His mission is to assist families and friends of families before, during and after their grieving process, to provide a deeper, stronger connection.
David Heard
Love Flags
LoveFlags.com
David(at)LoveFlags(dot)com
(760) 212-6705