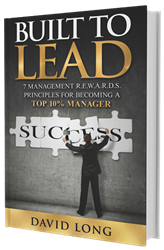 The 3 critical qualities needed in all your leaders are a person of responsibility, character and integrity.
(PRWEB) February 24, 2015
David Long knows quite a bit about what it takes to be "Employee of the Month". While building his own company, MyEmployees, David learned how to be a very successful leader and manager. In his book, Built to Lead: 7 Management R.E.W.A.R.D.S. Principles for Becoming a Top 10% Manager, Long shares with managers and business owners just what it takes to be successful.
The book teaches managers seven different REWARDS Principles (Recon, Education, Winners Emerge, Attitude, Recognition, Duplication and Success) that will lead to a positive work environment for themselves and their employees. It not only stresses what a manager can do for their employees, but also explores ways in which managers can grow personally. Long truly believes in the idea that it is important to never stop learning and always be working to better yourself and those around you.
Built to Lead, released in September 2014 through Next Century Publishing, has gone on to reach the number one spot in the leadership category on Amazon five separate times. The book is filled with Long's own experiences, giving readers a look at what really works in the business world. It showcases not only Long's talent as a businessman and proven leader, but also his skill as an author as he is able to effectively communicate business advice that is truly applicable.
More about Built to Lead: 7 Management R.E.W.A.R.D.S. Principles for Becoming a Top 10% Manager at: http://top10manager.com/.
David Long
David Long is the Founder/CEO of MyEmployees, a 26-year-old firm in the Top 1% Worldwide in the Employee Engagement and Recognition industry. His firm specializes in helping managers build stronger, more engaging relationships with their team members, while linking the rewards and recognition program to the desired goals of the company. Now a sought-after author, David Long released his latest book "Built to Lead" on September, 23rd, 2014.