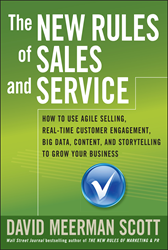 The marketing and PR functions have started the transformation due to the advances in real-time technologies of online content and social media; now it's time for sales and service departments to understand the new realities of growing business.
Hoboken, NJ (PRWEB) September 03, 2014
Sales and service are being radically redefined by the biggest communications revolution in human history. In today's technology-driven world, online content can be targeted to reach and win buyers one at a time, thus replacing yesterday's outdated, scattershot approach to sales and service. In "The New Rules of Sales and Service: How to Use Agile Selling, Real-Time Customer Engagement, Big Data, Content, and Storytelling to Grow Your Business"—the highly anticipated follow-up to the bestselling "The New Rules of Marketing & PR"—David Meerman Scott details the proven strategies and tools that business leaders can use to connect effectively with their customers and grow their organizations.
"Most organizations are still using traditional selling service models that were developed decades ago. This needs to change, or your organization will suffer," explains Scott. "Now buyers can interact with anyone who is active in social media. They can see what companies are doing. Who is engaged? Who will talk to me? Does anyone care? We're back to a hundred years ago and the ability to converse with the person who is selling. An authentic encounter with a representative from a company in a sales or service situation humanizes an organization after decades of sameness."
Written in the author's straightforward style, the book explores the new rules of sales and service, including:
1) Authentic storytelling sets the tone
2) Content is the link between companies and customers
3) Big data enables a more scientific approach to sales
4) Agile selling brings new business to your company
5) Real-time engagement keeps customers happy
"The New Rules of Sales & Service" shows how innovative businesses large and small are discovering new opportunities, strengthening customer loyalty, and mastering real-time buyer satisfaction. Using illustrative examples from a variety of thriving companies, Scott shows how to create authentic and effective stories that are aligned with the needs of the buyer, including: a bicycle manufacturer that engages customers with honest and revealing openness; an enterprising network of home basement repair contractors that educates clients with free publications and innovative visual software; and an independent physician who provides her patients with online video notes to help them follow detailed medical instructions.
"Now buyers are in charge of relationships with companies they choose to do business with. Smart companies understand this new world and build a buying process around the realities of independent research, "says Scott. "Instead of generic information dreamed up by an advertising agency, they tell authentic stories that interest their customers. Instead of selling, they educate through online content. Instead of ignoring those who have already made a purchase, they deliver information at precisely the moment customers need it. "
For those who are nervous about adopting the new rules, the book addresses these fears and reveals the many ways it is possible to strike a productive digital balance. Step by step, The New Rules of Sales and Service shows how to make the transition from the old ways of selling and servicing clients to the new realities now defining how people buy and do business.
Scott adds, "The marketing and public relations functions have started the transformation due to the advances in real-time technologies of online content and social media; now it's time for sales and service departments to understand the new realities of growing business."
About the Author
DAVID MEERMAN SCOTT is an internationally acclaimed marketing and sales strategist whose books and blog are must-reads for professionals seeking to generate attention in ways that grow their business. Scott's advice and insights help people, products and organizations stand out, get noticed and capture hearts and minds. He is author or co-author of ten books; three are international bestsellers. "The New Rules of Marketing & PR", now in its 4th edition, has been translated into 26 languages and is used as a text in hundreds of universities and business schools worldwide. It is a modern business classic with over 350,000 copies sold so far. Scott also authored "Real-Time Marketing & PR," a "Wall Street Journal" bestseller, "Newsjacking." and "World Wide Rave." He co-authored "Marketing the Moon" and "Marketing Lessons from The Grateful Dead."
A graduate of Kenyon College, Scott has lived in New York, Tokyo, Boston, and Hong Kong. He is a marketer in residence and on the board of advisors of HubSpot, and on the board of advisors of ExpertFile, GrabCAD, VisibleGains, GutCheck, and Newstex. He also advises nonprofits and is on the advisory board of the Grateful Dead Archive at UC Santa Cruz, and a member of the digital media advisory board of HeadCount.
Check out his blog at http://www.webinknow.com/ and follow him on Twitter @dmscott.