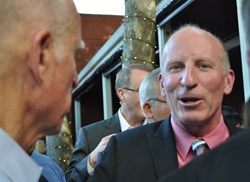 'I suggested an alternative plan to the one High Speed Rail Authority has, one that wouldn't require destruction of our vital farming industry.' - David Rogers, Madera County Supervisor
Madera, CA (PRWEB) October 15, 2013
District 2 Supervisor David Rogers discussed an alternative plan for High Speed Rail with Governor Jerry Brown during a conference May 30 in Sacramento. The conference, hosted by California State Association of Counties, is an annual event that brings supervisors from all across the state together to stay informed on statewide issues.
"I suggested an alternative plan to the one High Speed Rail Authority has," Rogers said, "one that wouldn't require destruction of our vital farming industry."
Brown asked why the farmers were opposed to the High Speed Rail project.
"So I told him," Rogers said. "The EIR is flawed, and the Authority completely ignored every concern the farming community presented."
"In addition to thousands of agricultural acres that would be lost under the Authority's plan, numerous ancillary businesses would be displaced and the likelihood they would relocate in California is slim."
He also told Brown that the wye section would severely and negatively impact the City of Chowchilla.
The City of Chowchilla, as well as Madera County along with various other entities, has filed lawsuits against the Authority.
Rogers said an incremental retrofitting of the existing Amtrak passenger rail line would not only avoid the negative impacts to the San Joaquin Valley, but also would save billions in taxpayer dollars.
"With grade separations, the Amtrak trains could travel at speeds of 125 miles per hour." Grade separations providing over and under passes instead of crossing roads at grade would eliminate unnecessary vehicle and pedestrian encroachments, significantly reducing fatalities.
"The demand in the Valley for passenger rail is over a million riders per year," Rogers said. "As ridership increases, as demand grows, they could develop, in the existing Amtrak right of way, an electric line that would utilize power from Temperance Flat Dam, once it's built."
"Building Temperance Flat Dam could not only power an electric rail system, but help provide much-needed water to farmers." He added that the first segment built should be between Los Angeles and Bakersfield, where the rail is very much needed.
"I'm opposed to High Speed Rail," Rogers added. "I have been since day one—now isn't the time for the state to spend billions when we have such enormous debt, and budgetary shortfalls. We cannot afford to compromise agriculture, as well. I offered this as a compromise, an alternative that just makes sense."
Rogers said Governor Brown admitted the idea was a good plan, but expressed concern over potentially losing $3.3 billion in federal funding for High Speed Rail.
"I told him, 'You don"t spend $100 billion to get $3.3 billion.'"
Rogers said he believes improving and using the existing Amtrak system until an electric rail could be built is something he feels our federal representatives could support. The Amtrak alternative was also offered as comment to the Authority"s EIR, and the Madera County Board of Supervisors unanimously voted to support the alternative.
Media Contact:
Brandon Hopkins
673 Harbor Dr.
Madera, CA 93637
559-871-1613