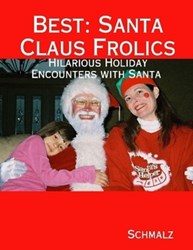 "I hope my readers will relive the joy they felt when meeting Santa as a child," he writes. "I know the adults I entertained as Santa certainly did!"
Kansas City, Mo. (PRWEB) December 10, 2013
Every Christmas for the past 18 years, David Schmalz has been ready with his big red suit and snow white beard. In his new memoir, "Best: Santa Claus Frolics: Hilarious Holiday Encounters with Santa" (published by Lulu), Schmalz pulls back the curtain and shares what it is really like to be Santa Claus.
"I found tremendous joy in uncovering my secret Santa persona," Schmalz reveals. "I desire to share the joy I experienced with others."
In this warming holiday collection, Schmalz captures the spirit and child-like wonder of the season. His encounters with kids from one to 92 showcase the touching and often hilarious day-to-day events of a Santa-for-hire. "The appeal of 'Best: Santa Claus Frolics' is in immersing the reader into the sights, sounds and feelings of the holiday season, as seen through the eye of the jolly old elf himself," says Schmalz.
Readers looking to keep the spirit of Christmas alive year round will easily fill the void with Schmalz's stories. "I hope my readers will relive the joy they felt when meeting Santa as a child," he writes. "I know the adults I entertained as Santa certainly did!"
Schmalz invites readers to visit him at http://www.dschmalz.com.
"Best: Santa Claus Frolics"
By David Schmalz
Softcover | 8.5 x 11 in | 65 pages | ISBN 9780557798544
E-Book | 65 pages | ISBN 9781257289653
About the Author
David Schmalz traveled and performed with Up with People. He then attained his master's degree in public administration and worked for 10 years in the mental health field. Since that time his career has been in sales, including Sprint and Hallmark. Schmalz is currently an account representative for Select Quote.