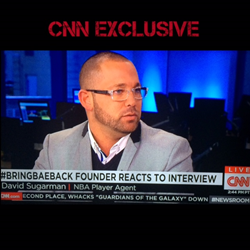 My goal on this earth is to make a change; a change for the better
New York, New York (PRWEB) November 25, 2014
David Sugarman, CEO of SugarTime, Inc., announces additions to the SugarTime staff and focuses attention on a new recruiting class. Rashad Harvey joins SugarTime veteran Alex Garcia as they renovate the recruiting and operations of SugarTime, The Agency.
Garcia, who started with SugarTime more than three years ago, has stepped into the role of Managing Director of Operations for SugarTime, Inc., The Agency. His responsibilities include management and recruiting of all prospects for the agency and then the training and promotion of athletes entering the National Basketball Association, FIBA or other leagues/teams.
"SugarTime has always been a passion of mine and adding Rashad to the team should put us in a prime position to get the best possible talent," said Sugarman. "Alex and Rashad make an outstanding team and have really pinpointed the talent that is the best fit for SugarTime."
Harvey, 25, officially joins SugarTime as the Director of Player Recruitment in his final year at the College of Business at the University of Michigan-Dearborn. Harvey brings the experience he gained interning at Interperformances, Inc. and the passion and drive he has to earn his agent certification. A former basketball player himself, Harvey has demonstrated a keen eye for recognizing player talent.
"Dreams are just dreams if you don't put forth the work to make them a reality," said Harvey. "I've been assisting David (Sugarman) and SugarTime now for more than two years and have always believed in him and what he puts his mind to."
The latest recruiting class includes athletes from top-tier programs and those throughout the country who demonstrate promising careers both domestically and abroad. The success of the previous SugarTime recruiting classes has set the bar high for the 2014-15 class entering professional sports.
This announcement comes on the heels of Sugarman's recent interviews on the news following the release of Kenneth Bae, who was held in North Korea for more than two years, and whom Sugarman created the #BringBaeBack campaign. In addition to his community engagement efforts, within the past year, Sugarman has made headlines as part of a group bidding to purchase The Plaza Hotel in New York as part of a larger hotel real-estate purchase. Sugarman World Enterprises has allowed Sugarman to meet with political figures and civic leaders as well as assisting organizations to reach their growth potential.
SugarTime, Inc. was established by David Sugarman, one of the premier financial-industry innovators, in October 2010. SugarTime, Inc. is the parent company for SugarTime The Sports Agency LLC and SugarTime Sports Management LLC. Sugarman, who is both a NBPA and a FIBA Certified Player Agent, added agency services to the list of amenities provided to clients. SugarTime Sports Management Firm offers its clients assistance and guidance in financial planning, plus services to include: bill pay, branding, real estate services, relocation, transportation and more. All aspects of The Agency and The Firm support the long-term financial goals of its clients. Please visit http://www.iamdavidsugarman.com