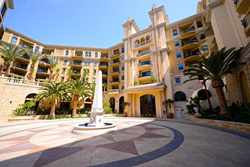 The DaVinci is one of the first new apartment projects in the neighborhood in more than a decade. We expect it will set the bar for luxury apartment living in Los Angeles.
Los Angeles, CA (PRWEB) April 07, 2016
The DaVinci features 526 downtown Los Angeles apartments in two phases. Phase II consists of 14,000 square feet of ground floor retail at 909 West Temple Street, the very edge of Bunker Hill, along with 1,000 new parking spaces. Phase I opened the first quarter of 2015 and is currently maintaining 98% occupancy, whereas Phase II, which was destroyed by what was deemed the "DaVinci Fire" on Dec. 8, 2015, is scheduled to open April 1, 2016, and is pre-leasing.
The DaVinci, the newest member of the G.H. Palmer Renaissance Collection that represents urban-style elegance and European living in the heart of downtown Los Angeles, offers fifteen unique apartment floor plans and a full suite of world-class amenities designed to enhance its occupants' lives. This includes a state-of-the art fitness facility, a full-size indoor basketball court, director's screening theater/karaoke lounge, a residential lounge, library, and executive business center with free Wi-Fi. The residential component consists of a wide array of unit types including a mix of studios and one-, two- and three-bedroom units ranging from $1,850 - $3,860 a month that feature elegant finishes, a gourmet kitchen, a large master suite, private balconies and spectacular views of the downtown Los Angeles skyline.
Outdoor areas showcase idyllic gardens and lounging areas, grills and a fire pit – all nestled in a lush landscaped setting. The DaVinci also features three sparkling pools, including a rooftop pool with panoramic city views. A fully loaded state-of-the-art fitness center, which provides a complete health club experience with a yoga room and on-demand fitness classes, is adjacent to the pool decks.
"The housing market has evolved over the last 10 years with more people choosing to rent as opposed to owning," said Geoff Palmer, of G.H. Palmer Associates. "The DaVinci is one of the first new apartment projects in the neighborhood in more than a decade. We expect it will set the bar for luxury apartment living in Los Angeles."
Downtown Los Angeles has been the focus of public and private investment to create a more vibrant environment for tourists, businesses, and residents. Attractions such as the Music Center, Disney Concert Hall, the Museum of Contemporary Art, and LA's Grand Park, and just a little further Olvera Street, Chinatown, the Convention Center and LA Live, have sparked additional interest and investment in the area.
About G.H. Palmer Associates
G.H. Palmer Associates, established in 1978, is a diversified real estate company with an aggressive commitment to the future of high-quality, investment-grade real estate.
The firm's executive management team combines the efforts and expertise of outstanding industry professionals, supplemented by consulting specialists whose skills are utilized on an individual project basis. They believe this type of operation provides maximum versatility, with the assurance that each property receives close coordination of efforts and meticulous attention to detail. For more information, please call (213) 213-0190, or visit http://www.ghpalmer.com.
About the NALA™
The NALA offers small and medium-sized businesses effective ways to reach customers through new media. As a single-agency source, the NALA helps businesses flourish in their local community. The NALA's mission is to promote a business' relevant and newsworthy events and achievements, both online and through traditional media. For media inquiries, please call 805.650.6121, ext. 361.