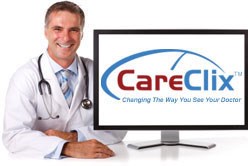 Washington, DC (PRWEB) September 12, 2013
CareClix, a telemedicine company based in the Washington, DC area, will be providing a leading provider of warehouse and shipping services, Davis Storage, telehealth services for their employees and management. The partnership provides a comprehensive telehealth solution and 24/7 telemedicine access to a licensed physician via telephone or online video. Davis employees are now enrolled in this CareClix Anywhere Program. CareClix Telemedicine offers their employees the flexibility to see a doctor when it is necessary and convenient for them. Employees can see their healthcare providers for high-level consultations on-demand either while traveling, from their office, or at home. Employees can access their physicians for high-level consultations by using CareClix's web-based video teleconferencing on either their computer, or on their hand-held devices on both cellular and Wi-Fi data networks. Additionally, CareClix provides them with access to fully secured personal health records (PHR) and patient data.
Based in Danville, VA, Davis Storage is a privately owned and operated company that has been in business since 1935. Davis Storage proudly serves the Central Virginia area and provides comprehensive warehouse, shipping, and logistics services to its clients. The busy and on-the-go employees at Davis Storage will benefit greatly from the convenient and easy access to a physician that CareClix provides.
Founded in 2010, CareClix provides one of the most comprehensive telehealth solutions in the world, serving as a fully integrated, secure, and HIPAA-compliant platform to connect medical providers and patients worldwide. This revolutionary technology enables doctors to see patients in their clinical settings virtually as well as at home via remote health monitoring. CareClix also gives providers' access to a certified Web-based Electronic Medical Record system, e-prescribing, and lab testing—all in one integrated platform. CareClix Anywhere, CareClix Exam, and CareClix Home represent exclusive products powered by the core CareClix processor. This makes CareClix and its technology unique in that it is the only integrated telemedicine platform providing a continuum of telehealth services-telephone and video access to a doctor 24 hours a day, seven days a week, to the virtual examination room, and to the patient centered medical home. In offering a comprehensive telemedicine solution, CareClix is changing the way patients see their doctor.
For more information and to view the innovative CareClix telehealth platforms, please visit http://www.careclix.com.