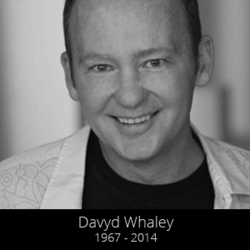 Los Angeles, California (PRWEB) October 23, 2014
Davyd Whaley was a celebrated and accomplished member of the contemporary art world. Unfortunately, this past week Whaley passed away on October 14. The news comes as an abrupt and unsettling shock to all those who knew and worked with this brilliant artist. He is survived and deeply grieved by his loving spouse, TV director Norman Buckley. Davyd Whaley's life and legacy will be honored this Saturday, October 25th at 11:30am. The ceremony will be held at the Wallis Annenberg Center for the Performing Arts In Beverly Hills, with a reception following. The ceremony will illuminate the deep impression he left on the lives of others, with speeches from loved ones and family members. Those interested in celebrating Whaley's life, which was truly dedicated to creating things of beauty with the hope they bring comfort and inspiration to others, should RSVP via his Facebook.
Originally born in Bristol, Tennessee in 1967, Whaley did not begin his career as an abstract painter until the mature years of his life. Whaley was veteran of the United States Navy, and then worked as an electrical engineer for twenty years. Following a serious health crisis, during which he had a series of unexplained seizures, Davyd's life took a pivotal turn, as he completely changed directions and moved towards the path of art and painting. Whaley's unique artistic expression focused on conveying the exploration of consciousness, and he was primarily self-taught. From 2008 to 2011, Whaley studied painting at the Art Students League of New York. There, he developed his own style, and worked alongside mentors such as Ronnie Landfield and Larry Poons. Whaley has also studied painting and exhibited at UCLA.
Widely renowned and celebrated for his exhilarating use of vivid colors and textures, Whaley was fascinated with Jungian psychology and developing a way to explore and understand his dreams and subconscious. His art reflects his drive to understand the unconscious mind through studying symbols, philosophy, and the elements of art. The power and energy behind his technique stemmed from a skillful application of a 3-dimensional contrast between light, color, and tactile depth. Regarding his approach to art, Davyd once said, I paint as a way of expressing my feelings. People often say things like: "I see flowers blooming" and I like that because I feel like my life is blooming. My paintings are often about the joy and the passion I feel. I hope that translates into a joyful experience for the viewer. But I also explore my dreams in my paintings, so I hope they evoke a meditative response, too.
Davyd worked with both The Children of War Foundation and The Art Of Elysium. His loving spouse, television director Norman Buckley, encourages contributions to be made to either organization in Davyd's name.
Davyd Whaley (1967 - 2014)
Memorial Service
Address:
Wallis Annenberg Center for the Performing Arts
9390 Santa Monica Blvd
Beverly Hills, CA 90210
310-246-3800
-Contributed by TRIXMEDIA : Creating Possibilities
Branding Firm based in Beverly Hills, California.