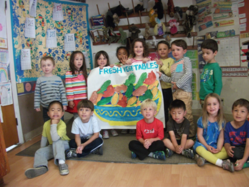 San Francisco, CA (PRWEB) July 08, 2013
July is Health and Nutrition Awareness Month at Mother Goose School. The staff will be teaching the students about the many benefits of a proper nutritious diet. They welcome the fresh fruit and vegetables of summertime and will celebrate with many different flavors, from artichokes and apricots to zucchini.
Teachers will engage children with simple and easy cooking projects, teaching them how to measure, mix, and prepare simple snacks. They will also learn about safe food practices, how to put different parts of a meal together, different tastes (sweet, sour, salty, and bitter), and the science of how food changes with chemicals and heat.
They encourage families to have their child safely participate in some of the food preparation at mealtime. Opportunities that directly involve children teach them the value and process of making food and following directions. Child friendly recipes make the activity manageable; making children more interested in eating the food they prepared.
If the child is a picky eater, be creative when introducing new flavors, patience will pay off. Encourage the child to actively participate in thoughtful mealtime conversations either at home or when out.
July 4th activities with the children brought out the red white and blue paint and toilet paper rolls to make rocket crafts, and paper plate fourth of July hats with stars. "There is no end to the wonderful ideas our staff create for the children," remarked Charles Dennis, Program Director at Mother Goose School. "Give children the directions and see what they can create. The process leads to some very fun and unique craft, the kind that parents want to display proudly on their mantle."
About the Company
Mother Goose School has been serving the child care needs of families of San Francisco and the Bay Area as a day care and preschool facility since 1951. Mother Goose School is open to all children between the ages of two and six. The primary focus of the school is to instill in each child a lifelong enjoyment of the learning process. The school is comprised of five developmental levels ranging from nursery through kindergarten age. Mother Goose School is open 7 a.m. to 6 p.m., Monday through Friday. They prepare and serve a hot, well-balanced lunch each day, as well as a nutritious mid-morning and mid-afternoon snack.
Mother Goose School believes that the development of the child's mind, body and character are equally important. In order to educate the whole child, their daily program includes instruction that is based on a balanced, all-inclusive curriculum. This preschool curriculum is specifically intended to provide a firm foundation for each child in preparation for any public or private school. The daily program at Mother Goose School includes academics, art and crafts, physical education and social skills. Music instruction is shared with morning classes twice weekly. Classrooms are equipped with child-friendly music. They also offer toilet training in their nursery program and a naptime every afternoon.
For more information, please visit their website at http://www.mothergooseschool-sf.com , or call them at (415) 424-4839. They tour prospective parents with their children daily at 10 a.m. and 3 p.m.