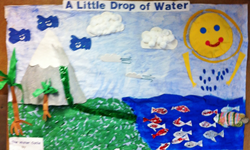 San Francisco, CA (PRWEB) March 17, 2014
Throughout the month of March, the children of Mother Goose School will be learning about nature. Nature is all around us, and the spring season is the perfect time to get out and enjoy it. At school, teachers and students will enjoy taking nature walks, while at home, families are encouraged to spend time together outside.
As part of this month's nature lessons, Ranger Benny of the Park Service will come visit Mother Goose School. The children will enjoy meeting him as he talks about wildlife. Ranger Benny comes to the school every year and always brings a collection of pelts and other finds related to science to share with the children.
This month, parents of Mother Goose School students are anticipating letters from public and private schools. The school strongly supports the process of finding the right kindergarten for students. To do so, Mother Goose School begins with workshops for families that provide specific information about kindergarten readiness and how to negotiate the lottery system put in place by the San Francisco Unified School District (SFUSD).
Mother Goose School works closely with Parents for Public Schools. They also have a unique understanding of San Francisco private schools, as well as a good relationship with admission directors and principals throughout San Francisco and the Bay Area.
To learn more about Mother Goose School, their topic of the month and their kindergarten preparation process, visit their website or give them a call at (415) 424-4839.
About the school:
Mother Goose School has been serving the child care needs of families of San Francisco and the Bay Area as a day care and preschool facility since 1951. Mother Goose School is open to all children between the ages of 2 and 6. The primary focus of the school is to instill in each child a lifelong enjoyment of the learning process. The school is comprised of five developmental levels ranging from nursery through kindergarten age. Mother Goose School is open 7 a.m. to 6 p.m. Monday through Friday. They prepare and serve a hot, well-balanced lunch each day, as well as a nutritious mid-morning and mid-afternoon snack.
Mother Goose School believes that the development of the child's mind, body and character are equally important. In order to educate the whole child, their daily program includes instruction that is based on a balanced, all-inclusive curriculum. This preschool curriculum is specifically intended to provide a firm foundation for each child in preparation for any public or private school. The daily program at Mother Goose School includes academics, art and crafts, physical education and social skills. Music instruction is shared with morning classes twice weekly. Classrooms are equipped with child-friendly music. They also offer toilet training in their nursery program and a naptime every afternoon.
For more information, please visit their website at http://www.mothergooseschool-sf.com, or call them at (415) 424-4839. They tour prospective parents with their children daily at 10 a.m. and 3 p.m.