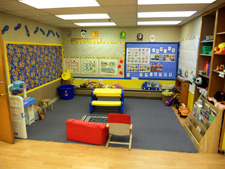 San Francisco, CA (PRWEB) April 11, 2014
"Animals" is the theme of the month for April at Mother Goose School in San Francisco. Teachers will provide opportunities for children to learn about the different types of animals. Animal month is a fun theme for children and teachers. There are so many things to learn within this category.
The Zoo Mobile will visit Mother Goose School this month and share with the children some of their favorite child-friendly reptiles and mammals. The children will be allowed to touch, feel and learn directly about these reptiles and mammals that come from habitats around the world.
Mother Goose School also encourages families to visit the Smith's Mt. St. Helena Trout Farm, the Audubon Canyon Ranch, Muir Woods, the San Francisco and Oakland Zoo, the Academy of Sciences, Berkeley's Tilden Park and the various tide pools along the seashore. Families should also take nature walks and have discussions about animals and how they have adapted to a city environment.
Easter is quickly approaching, and the children are thrilled to dye eggs and make baskets for this holiday.
Mother Goose School will be having its yearly vision screening for the children at 9 a.m. Wednesday, April 23 and Thursday, April 24. This is an important service provided by Prevent Blindness of California and Mother Goose School.
"We are grateful to have them share their services", explained Dana, owner of Mother Goose School. "They do a great job screening our children and making sure they have healthy vision!"
Everyone is looking forward to May's Multicultural theme, where students will be performing musical numbers for their parents. The children are practicing music and movement from Mexico, North America, France, Germany, Greece, Ghana, Japan, Hawaii, Africa and many more. Families are invited to share traditional ethnic foods and stories throughout the month with their child's class.
About the school:
Mother Goose School has been serving the child care needs of families of San Francisco and the Bay Area as a day care and preschool facility since 1951. Mother Goose School is open to all children between the ages of 2 and 6. The primary focus of the school is to instill in each child a lifelong enjoyment of the learning process. The school is comprised of five developmental levels ranging from nursery through kindergarten age. Mother Goose School is open 7 a.m. to 6 p.m. Monday through Friday. They prepare and serve a hot, well-balanced lunch each day, as well as a nutritious mid-morning and mid-afternoon snack.
Mother Goose School believes that the development of the child's mind, body and character are equally important. In order to educate the whole child, their daily program includes instruction that is based on a balanced, all-inclusive curriculum. This preschool curriculum is specifically intended to provide a firm foundation for each child in preparation for any public or private school. The daily program at Mother Goose School includes academics, arts and crafts, physical education and social skills. Musical instruction is shared with morning classes twice weekly. Classrooms are equipped with child-friendly music. They also offer toilet training in their nursery program and a nap time every afternoon.
For more information, please visit their website at http://www.mothergooseschool-sf.com, or call them at (415) 424-4839. They tour prospective parents with their children daily at 10 a.m. and 3 p.m.