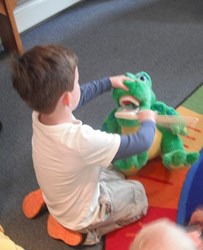 Busy Bees at Country Park
Williamsville, NY (PRWEB) November 15, 2013
Country Park Child Care and Preschool hosted its 2013 Fall Open House on Nov. 7. All parents were welcome to explore their children's school, view their children's surprise art projects, and learn a little more about what takes place after they've gone off to work each day. The Open House was a special opportunity for parents to bond with the educators that spend much of the day with their children. Good parent-teacher relationships are smart for a child's development and growth.
The children at Country Park recently had the great pleasure of hearing and interacting with a dental expert from University Pediatric Dentistry. Children were given fun, playful, and educational demonstrations of how to properly take care of their teeth. Learning and practicing healthy dental care starts young and lasts a lifetime.
Firefighters from a Harris Hill Fire Department gave all children, toddler through preschool, the rare opportunity to see and explore an operating fire truck. Children were amazed and excited as the huge fire trucks pulled into the Country Park parking lot. Not only that, but the children talked with a firefighter who was dressed head to toe in his firefighter garb. The children learned what to do and who they should trust in the event of an emergency.
It was quite a hoot when Country Park students trick or treated through the Halloween-decorated theme rooms. They paraded with lions, tigers, mermaids, and turtles as they collected goodies and enjoyed the fun-filled Halloween tradition. An upcoming event for the kiddos at Country Park is a presentation by Buffalo Zoo Trunk. On this special occasion children see and learn hands on about a wide variety of zoo animals. The excitement builds as this rare opportunity approaches. Photos of all the exciting events at Country Park can be found on their Facebook page.
Autumn is a time of beauty and change. Children have a blast on Country Park's one-acre outdoor wonderland. They explore the changing seasons and falling of leaves amidst different bugs and flowers. And now as the snow approaches, the children at Country Park experience the wonder of Western New York. For more information about Country Park Child Care, visit their website at http://www.countrypark.com/ or call 716-626-9039.
About the company:
Country Park Child Care was established in 1990 by Linda Clark. Clark wanted to implement her philosophy on early childhood education, which was a comprehensive and nurturing plan for high-quality child care. She took the time to ensure that she had a safe environment, a professional and highly-trained staff to be proud of, an environment fulfilling to both, parents and children, balanced educational programs, superb hygiene including bathroom and diaper procedures, immaculate housekeeping, an odor-free environment, top-notch hands-on creative lesson plans and attention to table manners.
Clark also encourages parents to get involved in the program by sharing any pertinent information, books, songs and videos, cultural and other materials that are relevant to Country Park's activities. She feels strongly that parent/teacher communication is vital to a child's growth and development. Over the years, Country Park has received many complimentary comments from the parents of the children entrusted to their care. For those interested in entrusting Country Park with the care of their child, those comments may be interesting to see.
Clark wants each parent to be absolutely confident when they leave their child in the care of the staff at Country Park that their child will be safe, happy and given the opportunity to explore and participate in a fulfilling day of educational, hands-on fun. Country Park Child Care offers day care and preschool programs. For more information please visit, http://www.countrypark.com/.