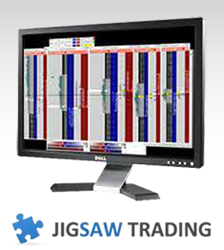 As an ex-floor trader for 20 years in Chicago, I can tell you that the Jigsaw DOM is one of the best products I have seen or used since I made my transition from the pit to the screen.
Chicago, Illinois (PRWEB) March 21, 2014
In a recent independent review, the research and evaluation organization Investimonials rated Jigsaw Trading Day Trading Software 'number one' out of a total of 283 trading applications.
Investimonials.com is an independent review site dedicated to identifying the best financial products and services globally, highlighting which products are truly beneficial and which are not. Traders looking to make an informed buying decision use this information to enhance their decision making process.
Investimonials.com named Jigsaw Trading top software product out of over 280 candidates, on the strength of their innovative decision support tool set for day trading futures and stock markets. Among all investment products, Jigsaw ranked 25 out of more than 19,000 products tested.
Rankings are derived from reviews submitted by end-users of the products, which are compiled using Investimonial's proprietary rating system. As well as these ratings, each customer has the ability to enter a written review to describe their experience. These independent comments come from a diverse group of day traders and contain informative and interesting insights into each company.
James Pendlebury, an ex-floor trader who spent 20 years at the Chicago Mercantile Exchange and is now the CEO of JPJ Trading had this to say about the Jigsaw's day trading software and full product line:
"As an ex-floor trader for 20 years in Chicago, I can tell you that the Jigsaw DOM is one of the best products I have seen or used since I made my transition from the pit to the screen.
"Having the ability to see order flow is key in trading more so today on the electronic platform than ever before. The beauty of the Jigsaw DOM is it gives you the ability to see icebergs, stacked and pulled orders to further enhance your order flow read.
"I have been mentoring people on how to trade using Market Profile and MarketDelta footprint charts for the last 10 years. I use Market Profile for identifying trade location and the MarketDelta footprint charts and Jigsaw DOM for reading the order flow and timing. Using these three products together is the best way to trade...no need for lagging indicators or moving lines... this is REAL TIME order flow info!
"As a successful full time trader for 30 years and a trading mentor I swear by this product."
Other reviewers focus on the quality of support given by Jigsaw Trading, both in terms of product support and promptly responding to trading related queries for those still in the learning process.
A key-element of Jigsaw's trading philosophy is their refreshing approach toward their user community. CEO of Jigsaw, Peter Davies, explains, "What sets Jigsaw apart is that we actively encourage our customers to communicate with each other. Indeed, we even provide a venue for them to meet in the 'Jigsaw Chat Room', a friendly, unmoderated, live discussion room where traders discuss the market action. Many of our customers have their own YouTube pages, contribute to the Jigsaw Blog and create threads on various Trading Forums explaining their methods and how they use the products. We contribute our own content and trade recordings to the site, as well as to our partner sites."
Jigsaw are also commended for the high quality of their training material. With their publicly available "Order Flow Foundation" course, Jigsaw is arguably the best resource for Order Flow training material available on line. In fact, Jigsaw's educational material is now being disseminated in a number of Proprietary Trading firms to help their interns grasp Order Flow concepts.
The Jigsaw Trading Toolset is relatively inexpensive costing just $399.99 for a lifetime license with an additional $50 a month for the ability to place live trades from the platform with no additional exchange or per-transaction fees. Considering the reviews this day trading software is getting, this has to be an excellent value proposition.